Discover the Adriatic: Croatia & Slovenia with Venice
The Adriatic region: Slovenia & Lake Bled to Croatia's Split & Plitvice Lakes & more, plus the canals of Venice & Lake Wörth in the Austrian Alps
Overview
Get updates about this package
from$3299Tour + Flights
from$2799Tour Only
10days
price per person, double occupancy,* based on Oct 3, 2019 departure from NYC
$300 Instant Savings. Expires Sep 26, 2019.* All prices reflect savings.
Style

Value Vacation

Travel in larger groups than our Small Group tours, but at fantastic value prices. These group tour packages are operated by our carefully selected partners and may be shared with other English speaking passengers ensuring guaranteed departures. More of these packages


Dedicated tour escorts & guides throughout

Departures
October 2019
Group Size
25 travelers max
Themes
History & Culture
Activity Level

Moderate
What to Expect
This fast-paced, escorted tour involves a significant amount of walking or hiking, often on uneven and sometimes wet terrain. Plitvice Lakes National Park and Postojna Caves also include numerous stairs, requiring a higher level of physical fitness to fully enjoy the trip.
Already booked?
Find everything you need to know before you go, including information about passport & visa requirements, flights, luggage, and more.
Package Includes
Flights
Coach
Transfers
Hotel
Meals
Guides
Round-trip flights from New York (JFK) or Newark (EWR) on scheduled carriers, including fuel surcharges and taxes and fees
All ground transportation and transfers
8 nights accommodations in Superior hotels
13 Meals: 8 buffet breakfasts, 2 lunches, and 3 dinners; Plus truffle and olive oil tastings
Comprehensive tour program including entrance fees
Professional, English-speaking tour director and local guides
Why you'll love it
Travel through iconic canals in Venice, the inspiring Grand Canal and St. Mark's Square
Marvel at the pristine glacial lakes and medieval castles of historic Bled
Visit the charming town of Klagenfurt and the crystal waters of Lake Worth
Stroll by the seaside in beautiful Opatija
Experience the 2000-year old amphitheater in Pula
Explore the underground caves of Postojna and Vrelo Cave
Hike and boat through the majestic Plitvice Lakes
Tour the famous city of Split and Diocletian's Palace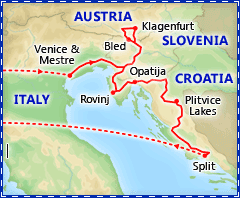 Come encounter the immense breadth of cultural and scenic experiences Europe has to offer the curious traveler on our 10 day adventure to the Adriatic. Three nights in Slovenia. Four nights in Croatia. Plus a night in Venice and a trip to Lake Wörth and Klagenfurt in Austria. You'll discover incredibly unique cities unlike anywhere else on earth. Just wait until you wander the narrow canals and column fringed plazas of Venice or get lost atop a rocky Adriatic peninsula in Rovinj's or Split's Old Town. Then do as the locals do and leave the cities behind for some fresh air and scenic views in Europe's famed countryside: explore a tiny island in the middle of Slovenia's Lake Bled, perch on the lookout over Lake Wörth in the Austrian Alps, and hike through the turquoise terraces of Croatia's Plitvice lakes. And of course, you'll visit the picture-perfect places that populate the postcards of those ubiquitous souvenir stalls; like Bled Castle, the roman ruins in Croatia's seaside towns, the extensive Postojna and fairy-tale Vrelo caves, and the churches that preside over the plazas, perch above the panoramas, and nestle down the narrow medieval alleys and speak to the architectural and cultural history of the continent.
And that's only a handful of the itinerary features that are waiting for you. This is the romance of European travel at its best. Its cities and scenery, castles, coastline and caves, alpine lakes and medieval fortresses, art, architecture and undeniable allure. So buckle your suitcases and dust off your guidebooks. Get your cameras ready and your passports stamped, because this is going to be the trip of a lifetime.
Dates & Prices
Departure Dates & Prices
Instant Savings: Get $300 off if you book by Sep. 26, 2019!
Departures & Prices, with flights
2019 DEPARTURES
Depart / Return
Price
Instant
Savings
Instant
Savings
Expire
Your
Price
Departs: Thu, Sep 12, 2019
Returns: Sat, Sep 21, 2019

Sep 12 – Sep 21
$3299
–
–
–
Closed
Departs: Thu, Sep 26, 2019
Returns: Sat, Oct 5, 2019

Sep 26 – Oct 5
$3299
–
–
–
Closed
Departs: Thu, Oct 3, 2019
Returns: Sat, Oct 12, 2019
Book by Thu, Sep 26, 2019 (midnight ET) to get the Instant Savings!
Oct 3 – Oct 12
$3599
–$300
Sep 26
$3299
Book
Departures & Prices, tour only

per person, double occupancy*

2019 DEPARTURES
Depart / Return
Price
Instant
Savings
Instant
Savings
Expire
Your
Price
Departs: Fri, Sep 13, 2019
Returns: Sat, Sep 21, 2019

Sep 13 – Sep 21
$2799
–
–
–
Closed
Departs: Fri, Sep 27, 2019
Returns: Sat, Oct 5, 2019

Sep 27 – Oct 5
$3099
–
–
–
Closed
Departs: Fri, Oct 4, 2019
Returns: Sat, Oct 12, 2019
Book by Thu, Sep 26, 2019 (midnight ET) to get the Instant Savings!
Oct 4 – Oct 12
$3099
–$300
Sep 26
$2799
Book
If you want a few extra days to explore on your own, we may be able to arrange for you to stay later than the scheduled dates, including extra hotel nights and separate airport transfers, for an additional charge. Ask us about prices and availability when (or after) you reserve. More information Want to extend your trip?
Flights & Departure Cities
Departure Airports
New York City (NYC)
included
This package includes round-trip flights from the city listed above.
Itinerary
Day 1: Depart USA/Overnight Flight

Depart the USA on your overnight flight to Venice

Day 2: Venice Mestre, Italy

Accommodations: 1 night Hotel Russott or similar, Mestre.

Arrive in Venice and be transferred to your hotel in Mestre
Balance of the day at leisure

Full Day Itinerary: Upon arrival at Marco Polo International Airport Venice, and after clearing immigration and customs, meet our representative and you will be transferred to Mestre, on the mainland of Venice.

Enjoy the balance of the day at leisure to rest or explore the area around your hotel.

Day 3: Venice, Italy & Bled, Slovenia

Accommodations: 3 nights Hotel Park or similar, Bled. Included meals: Breakfast & dinner.

Enjoy a guided walking tour of the floating city of Venice
Continue to Bled, Slovenia

Full Day Itinerary: After breakfast, meet your tour guide and fellow travelers for a morning walking tour of Venice. Travel like a local via vaporetto to St. Mark's Square. With St. Mark's Basilica on one end, and the Doge's Palace on the other, the square or piazza was the center of civic and religious life in Venice during the days of the Republic. See the breathtaking Romanesque-Byzantine facade of the basilica as well as St. Mark's campanile, considered to be one of the square's most recognizable landmarks. Next, view the Bridge of Sighs, an enclosed bridge constructed of white limestone with stone bars encasing its small windows. The bridge connects the New Prison to the interrogation rooms in Doge's Palace. Legend has it that prisoners crossing the bridge to their fate would sigh as they caught their last glimpses of Venice, and thus the bridge received its name. Then, make your way towards the Grand Canal and the famous Rialto Bridge. The Rialto Bridge is the oldest of the four bridges that span the Grand Canal. Consisting primarily of steps, the bridge has two walkways along the outer balustrades and a central walkway between two rows of small shops, it is one of the most photographed sights in Venice. Enjoy some time at leisure for an independent lunch.

Afterwards, return to the mainland and depart for Bled, Slovenia. Check-in to your hotel for dinner and overnight.

Day 4: Bled & Bohinj, Slovenia

Included meals: Breakfast.

Enjoy a relaxing boat tour of Lake Bled
Spend time at leisure to explore the island independently, or simply take in the beautiful scenery
Visit Bled castle to admire the historic city, lake and surrounding mountains
Round out the day at picturesque Lake Bohinj

Full Day Itinerary: Set off this morning to discover Bled, which ranks among some of the most beautiful alpine resorts. Begin with a relaxing pletna boat ride on the picturesque Lake Bled. This glacial lake was formed over a tectonic basin, giving the water thermal properties. Enjoy some free time to explore Bled Island and the Church of the Assumption. The church, with its Baroque stairway with 99 stone steps, the free-standing, 52-meter tall bell tower, and the lush greenery of the island, add to the breathtaking beauty of this small tear-shaped island.

Continue to Bled Castle, a medieval castle perched on a cliff, high above the city. From here, admire the striking views of the city, lake, and the surrounding mountains. On a clear day, it is possible to see Slovenia's highest mountain, Mount Triglav. The first castle was built in approximately 1011, then in the late middle ages, towers were added and fortifications were improved. After sustaining damage in an earthquake in 1511, the castle was restored to what you see today. In the upper courtyard, there is a Gothic chapel built in the 16th century, which underwent a Baroque renovation in the 1700s, and then was further restored and embellished during the 1950s. This courtyard is also home to a museum highlighting the history of Bled. Today the castle is an exhibition area, with rooms showcasing the ancient history of Bled.

Before returning to the hotel stop to see the stunning Lake Bohinj, the largest natural lake in Slovenia, located within a glacial valley of the Julian Alps.

Day 5: Klagenfurt and Lake Wörth, Austria & Bled, Slovenia

Included meals: Breakfast & lunch.

Cross the border to southern Austria
Visit the charming university town of Klagenfurt
Enjoy a panoramic tour of Carinthia and Lake Wörth

Full Day Itinerary: Today, visit the neighboring country of Austria and enjoy breathtaking views of the Alps, impressive at any time of the year. Begin with the provincial capital, Klagenfurt, a charming university town. See the famous Lindwurm fountain, and learn about how legends of local dragons inspired its creation in the 16th century. Take in the sights and sounds of Neuer Platz square, and then enjoy lunch at a local restaurant. Nestled within the eastern mountains, the historic county of Carinthia is a sight to behold, even sometimes referred to as "Austria's Riviera". The panoramic tour will showcase the natural wonder of Lake Wörth. Gaze upon the crystal clear blue-green water, spanning over 20 kilometers long. Return to Bled early this evening.

Day 6: Postojna & Predjama Castle, Slovenia & Rovinj, Croatia

Accommodations: 2 nights Hotel Eden or similar, Rovinj. Included meals: Breakfast.

Explore the breathtaking Postojna Caves
Visit the world renowned Predjama Castle
Cross the border to Croatia and the charming town of Rovinj

Full Day Itinerary: After breakfast, head off to the majestic Postojna Caves. Carved by the Pivka River over millions of years, it officially became a tourist destination in 1819. It's also one of the largest underground cave systems in all of Europe. The visit begins at the entrance station of the cave railway. First, pass through an artificial tunnel built in 1964, continuing to the first natural tunnel which is black and sooty due to a fuel dump explosion during World War II. Next, see the Gothic Hall, richly decorated with stalactites and stalagmites, then the Ballroom which for 180 years has been a venue for a variety of events. View nature's sculptures as the train progresses for two more kilometers to the Great Mountain. From here, continue on foot past the Great Mountain, also known as Calvary, across the Russian Bridge to the Beautiful Caves, through Spaghetti, White, and Red Halls, all the way to the Brilliant Passage, where the most famous stalagmite and symbol of Postojna Cave stands: the Brilliant. Follow the route into the Concert Hall and learn about the only underground post office in the world then board the train to return to the surface. Lucky visitors may see the endemic olm, the largest troglodytic amphibian in the world! More commonly known as an aquatic salamander, these cave-dwelling critters are also a symbol of Slovenian natural heritage.

Next, visit the fascinating Predjama Castle, built within the mouth of a nearby cave. This Renaissance style castle had many famous inhabitants, none more notorious than the Erazem Lueger, a knight and legendary robber baron. Learn his story, as well as discover the unique attributes of the Castle. Besides offering a gorgeous view, Predjama also highlights unmatched 13th -16th century craftsmanship, and a secret network of tunnels within the caves below.

Cross the border to Croatia, and arrive to the enchanting coastal town of Rovinj on the Istrian Peninsula, the largest peninsula in Croatia, late this afternoon and check-in to your hotel. Enjoy an evening free to wander the streets of one of the last true Mediterranean fishing ports.

Note: Some 2019 departures may overnight in Porec instead of Rovinj.

Day 7: Rovinj, Croatia

Included meals: Breakfast.

Enjoy a walking tour of charming through Rovinj
Marvel at the Basilica of St. Euphemia
Savor delicious Truffle tastings in Livade and Olive Oil tastings in Vodnjan
Behold timeless Pula and its Roman amphitheater

Full Day Itinerary: Today's adventure begins with touring the "Pearl of Istria", Rovinj. Stroll through a labyrinth of picturesque cobblestone streets and hills in Old Town, and marvel at the tiny shops, interesting galleries, and compact architecture. A still active fishing port, Rovinj offers a glimpse of its traditional seafaring roots juxtaposed with a modern and, at times, festive atmosphere. On a hilltop in the middle of the town center, visit the immense Basilica of St. Euphemia, and 200 ft. tall bell tower, offering spectacular views of the city and sea.

Continue to Livade, well known for their culinary contributions to the region. Here you will sample the rare and exotic truffle. An Istrian treasure, they grow wild, and must be hunted by skilled truffle hunters, sometimes assisted by a dog, (or even a pig!) to help them locate these delicate and delicious mushrooms.

Later, enjoy an olive oil tasting in Vodnjan, from one of the most renowned local producers. Vodnjan's climate and location contributes to the amazing flavor and color, making it one of the world's best olive oils. Some say you can taste the sunshine in every drop!

Finally, visit Pula, a 3000 year old city on the southern tip of Croatia's Istrian Peninsula. Among the many ruins and historical sites, the most impressive is the Pula Arena. This Amphitheater is still used today for concerts, movie sets, and its image appears on the 10 Kuna note. Learn about the history of one of the world's largest and best preserved Roman arenas.

Return to Rovinj for an evening at leisure.

Day 8: Opatija, Lake Bajer, & Plitvice Lakes, Croatia

Accommodations: 1 night Hotel Jezero, or similar. Included meals: Breakfast, lunch & dinner.

Enjoy a morning at leisure in Opatija
Explore the Vrelo Cave

Full Day Itinerary: Leaving the peninsula behind, drive through beautiful countryside to the coastal town of Opatija. Enjoy some time at leisure to enjoy this wonderful little town full of magnificent villas and old hotels, once a famous winter resort of the Austrian elite. You can choose to stroll along the Lungomare promenade, visit Angiolina Park, or simply enjoy a coffee at Wagner's terrace.

Then board the coach again, passing through the Gorski Kotal Region, and arrive to the tiny shore village of Fuzine. Explore the fairy-like Vrelo Cave, and the underground river that runs through it. Only discovered by accident in the 1950's this cave complex is unique with its low impact terrain, making it the most accessible cave in Europe. The cool climate also provides a welcome break from the heat of the summer months.

Enjoy lunch at a local restaurant and savor the traditional, home-made food of the region. Continue through the lush green scenery to Plitvice Lakes.

Day 9: Plitvice Lakes & Split, Croatia

Accommodations: 1 night Hotel Cornaro or similar, Split. Included meals: Breakfast & dinner.

Hike through Plitvice Lakes National Park
Take a boat ride across the emerald green Kozjak Lake
Walk through the old town of Split, and visit Diocletian's palace

Full Day Itinerary: After breakfast, depart for Plitvice Lakes National Park, a UNESCO World Heritage site. Marvel at the fascinating labyrinth of evergreen woods and the 16 lakes, each connected by waterfall. Enjoy a hike through the park, taking in the beauty of several lakes. The last, lowest and largest of them all, is the emerald green Kozjak Lake. Here you will board a boat to travel across, and have time to relax and appreciate the magnificent view.

This evening, arrive in Split, the second largest city in Croatia and the largest on the Adriatic coast. Enjoy a short walk through this UNESCO World Heritage site. The town has been built and re-built for seventeen centuries, and today you may find an 18th century building intersecting with ancient Roman walls. Explore the 4th century palace built by the Roman emperor Diocletian to spend his golden years. Continue walking to view the Grgur Ninski statue and the Cathedral and Bell Tower of St. Domnius.

Join your fellow travelers for a farewell dinner in a typical Dalmatian restaurant.

Day 10: Depart Split, Croatia/Arrive USA

Included meals: Breakfast.

Transfer to the airport to board your return flight to the USA.
Hotels
In the unlikely event that a particular hotel is not available, a similar or better hotel may be substituted.
Reviews
Check out independent, verified reviews from real travelers on
Feefo
.