Treasures of the Rhine River Cruise
Cruise the Rhine through Switzerland, Germany, France & the Netherlands; see Basel, Strasbourg, Cologne, Amsterdam & more
Overview
Get updates about this package
This package is currently unavailable.
Style

Value Vacation

Travel in larger groups than our Small Group tours, but at fantastic value prices. These group tour packages are operated by our carefully selected partners and may be shared with other English speaking passengers ensuring guaranteed departures. More of these packages


Dedicated tour escorts & guides throughout

Departures
Themes
River Cruises
What to Expect
This moderately-paced, escorted river cruise/tour includes a reasonable amount of walking or hiking and requires an average level of physical fitness.
Already booked?
Find everything you need to know before you go, including information about passport & visa requirements, flights, luggage, and more.
Package includes
Flights
Cruise
Coach
Transfers
Meals
Guides
Round trip flights from New York (JFK) or Newark (EWR) on scheduled carriers, including fuel surcharges and taxes and fees
All ground transportation and transfers
8 nights' accommodation in lower deck cabins on superior first class MS Douce France
23 meals: 8 breakfasts, 7 lunches, 8 dinners
Complimentary unlimited beverages including bottled mineral water, coffee, tea, wine, beer and spirits throughout cruise
Evening entertainment
Complimentary Wi-Fi on board
Complimentary Samsung Galaxy Tablet for use during cruise
Included daily Classic Shore Excursions
Wireless audio system during Shore Excursions
Daily briefing on the ports of call
Professional, English-speaking cruise manager and local guides
All port charges and local taxes
Optional add-ons
Upgrade to upper deck cabins are available.
Why you'll love it
Cruise the Rhine River through 4 countries
Welcome cocktail and Gala Dinner
Superb French Cuisine
Shore excursions in Basel, the Rhine Falls, Colmar & Unterlinden Museum, Strasbourg, Mainz, Koblenz, Cologne, Dutch Open Air Museum of Arnhem, Amsterdam, Haarlem
Evening entertainment on board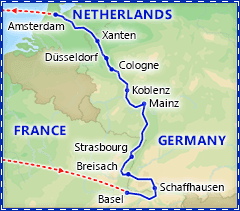 Experience a journey through four countries in the heart of Europe, on a stunning Rhine River cruise starting in Basel and ending in Amsterdam. Dine on superb French cuisine paired with an unlimited selection of wine and beer. Take part in daily shore excursions to visit the picturesque cities of Basel, Strasbourg, Mainz and the Gutenberg Museum, Amsterdam and more. After dinner, relax with musical entertainment, a Gala evening, or venture into the quaint towns for an evening stroll.
Videos
Itinerary
Day 1: Depart USA

Depart the USA on your flight bound for Basel, Switzerland

Day 2: Basel

Accommodations: 8 nights on board MS Douce France. Included meals: Dinner.

Arrive in Basel, be met and transferred to your river cruise ship for boarding at 6:00 pm.
This evening, an introduction to the crew over a welcome cocktail
Dinner on board

Full Day Itinerary: Arrive at Basel Airport, where you will be met and transferred to the port. Luggage can be stored as of noon, and check-in will be at 6:00 pm. After settling into your cabin, get to know the crew over a welcome cocktail and dinner on board.

Day 3: Basel & Schaffhaussen

Included meals: Breakfast, lunch & dinner.

Morning guided tour of Basel
Afternoon excursion to the Rhine Falls
Cruise to Breisach

Full Day Itinerary: This morning, travel by coach to the city center for a guided walking tour of Basel. Discover the longstanding Grossbasel section with its numerous medieval monuments and passageways. See the Basler Münster, the Protestant cathedral and one of Basel's most important landmarks. The market place is dominated by the ornate Town Hall. Stroll along the well-known Feie Strasse, a main transit route during the Middle Ages and today a trendy shopping area. Return to the ship for lunch. In the afternoon, set off by coach to see the Rhine Falls, one of the most spectacular sites in Switzerland. View the Laufen Castle, which boasts an impressive view point over the falls. Return to the ship for dinner and dancing, as you cruise towards Breisach.

Day 4: Breisach

Included meals: Breakfast, lunch & dinner.

Free morning in Breisach
Afternoon excursion to Colmar and the Unterlinden Musuem

Full Day Itinerary: Enjoy a free morning in Breisach. After lunch on board, depart for Colmar, with its typical and authentic Alsatian architecture of brightly painted timber façades dating from the Middle Ages, and discover the quintessential neighborhood of "Little Venice". Visit the Unterlinden Museum featuring a large collection of local and international artworks and artifacts from prehistoric to contemporary times, as well as the Isenheim Altarpiece. The museum is housed in a 13th century Dominican convent, which in 1906 was also a public bath. Return to the ship for dinner and entertainment.

Day 5: Breisach & Strasbourg

Included meals: Breakfast, lunch & dinner.

Morning cruising to Strasbourg
Afternoon guided tour of Strasbourg
Enjoy an evening of dancing as you sail toward Mainz

Full Day Itinerary: Relax on board as you cruise toward Strasbourg. After lunch, depart for a guided visit of Strasbourg. Begin with a panoramic tour of the town, driving through many of its districts, such as the "German Quarter", past the Place de La République, continue to the European district, passing by the Palace of Europe, the Human Rights Building and the European Parliament Building. Continue exploring this European capital during a guided walking tour around the Cathedral where you will view the façade of the famous Kammerzell house. Then, amble along in the Petit France District, a famous district in Strasbourg much loved by the locals and listed as a UNESCO World Heritage Site. Return to the ship later this afternoon for an evening of dancing as you sail toward Mainz.

Day 6 : Mainz & Koblenz

Included meals: Breakfast, lunch & dinner.

Morning guided tour of Mainz and Gutenberg Museum
Sail past Lorelei rock to Koblenz
Evening walking tour of Koblenz with the cruise director

Full Day Itinerary: After breakfast, set off on foot with your guide to visit the town of Mainz, capital of the Rhine Palatinate and founded more than 2000 years ago by the Romans. Mainz is situated on the banks of the Rhine River opposite the confluence of the Rhine and Main Rivers. Admire the magnificent historic houses which date to 17th and 18th centuries. Enter the cathedral, where construction began in 975, and houses historical treasures including tombs and funerary monuments. Wander up and down the colorful streets of the old town. Visit the Gutenberg Museum, spread over five floors. Johannes Gensfleisch Gutenberg himself prepared the copy of the Bible referred as "the 42-line Bible" published in 1455 and is the oldest printed book in the world, and houses one of the 46 remaining copies in existence. Also see the "Mainz Psalter" the first document ever printed using three ink colors. Board the coach to rejoin the ship at Worms. Cruise towards Koblenz, passing by the legendary Lorelei rock. After dinner on board, join your cruise director for a casual walk in Koblenz.

Day 7: Koblenz, Cologne & Dusseldorf

Included meals: Breakfast, lunch & dinner.

Morning cruising to Cologne
Afternoon guided tour of Cologne
Free time in Cologne, then transfer to Dusseldorf to meet the ship
Gala dinner

Full Day Itinerary: Enjoy the morning as the ship cruises to Cologne. After lunch, depart on foot with your guide. Cologne or Köln, has been at the crossroads of Europe since the Middle Ages, and is still a vibrant and important commercial and industrial city as well as a cultural and religious center. Admire the exterior facades of the high Gothic Köln Cathedral, built over the course of five centuries, and finally completed in 1863 and for a short time was the tallest building in the world. The cathedral is surrounded by 12 Romanesque style churches representing the 12 apostles. Walk through the Old Town and admire the new-Gothic building, home of the famous "Eau de Cologne". There will be some free time in town, and then continue by coach to meet the ship in Dusseldorf. Gala Dinner and music on board.

Day 8: Dusseldorf, Xanten, Nijmegen & Amsterdam

Included meals: Breakfast, lunch & dinner.

Morning cruise to Xanten
Visit Dutch Open Air Museum of Arnhem
Afternoon cruise to Amsterdam

Full Day Itinerary: Enjoy the morning as the ship cruises to Xanten. Depart by coach with a cruise director for the Dutch Open Air Museum at Arnhem, situated in a beautiful wooded park. Visit the museum at your own pace

There are many buildings, farms, windmills, workshops, a school, a church and other structures. There are demonstrations inside each building. See the HollandRama on the lower level, with its panoramic theatre, films, sounds, lights that evoke many different landscapes, from city panoramas to the inside of houses. Return by coach to meet the ship in Nijmegen. Cruise toward Amsterdam in the afternoon, This evening, entertainment on board after dinner.

Day 9: Amsterdam

Included meals: Breakfast, lunch & dinner.

Morning guided tour of Amsterdam
Afternoon guided tour of Haarlem

Full Day Itinerary: After breakfast, depart by coach for a guided tour of the unique city of Amsterdam, from its romantic canals to its world-renowned museums and historical significance. Stop to view the De Rieker Windmill, one of the eight windmills in the greater Amsterdam area. Originally built in 1636 in the town of Sloten to help drain water, it was dismantled and rebuilt 1961 on the banks of the Amstel River between Kalfeslaan and Borcht. Rembrandt drew inspiration from these sites and a statue of him was erected nearby. Then, head to the Diamond District for a diamond cutting demonstration and an explanation of how diamonds are valued. There will be some free time to browse the shop. Drive by the Bloemenmarkt, the famous floating flower market, and the most fragrant place in Amsterdam. Return to the ship by coach.

After lunch on board, depart this afternoon for Haarlem, known as the "City of Flowers" and for centuries the main production and export center for tulip bulbs. This charming town has been the inspiration for painters and artists throughout the centuries. See the Amsterdamse Poort (Amsterdam Gate) built in 1400 and the only remnant of the city's fortifications; The Grote Markt (Main Square); the Corrie Ten Boom House used as a hiding place during World War II and the impressive Gothic Cathedral of St Bavo. After some free time, return to Amsterdam by coach.

Enjoy a final dinner on board this evening.

Day 10: Depart Amsterdam/Arrive USA

Included meals: Breakfast.

Disembark from the ship at 9:00 am
Transfer to the airport for your return flight
Arrive in the USA later today
Cruise Ship
CroisiEurope's MS Douce France
CroisiEurope's MS Douce France is a superior first class cruise ship. It is spacious, and bright with a passenger capacity of 110 with 55 cabins. Once on board, you will find all of the amenities and comforts which distinguish CroisiEurope's fleet, and the outstanding and friendly service which is the trademark of the staff and crew. CroisiEurope's cruises always start with a welcoming cocktail reception, where you'll meet the captain, crew and staff of your boat.
Reviews
Check out independent, verified reviews from real travelers on
Feefo
.