Splendid Ireland
This package is currently unavailable.
To be the first to know when we have more departures available, subscribe to our Hot Deals mailing list.
Overview
Featuring
The intimate capital of Dublin, the rugged Ring of Kerry & awe-inspiring Cliffs of Moher, Galway & Connemara; stay in deluxe hotels throughout
Style
Value VacationTravel in larger groups than our Small Group tours, but at fantastic value prices. These group tour packages are operated by our carefully selected partners and may be shared with other English speaking passengers ensuring guaranteed departures. More of these packages
20 travelers max, dedicated tour escorts & guides throughout
Departures
Scheduled Dates
Price Includes

Flights

Coach

Transfers

Hotel

Meals

Guides

Round-trip flights from JFK or Newark (EWR) to Dublin, including fuel surcharges and taxes and fees
All ground transportation and transfers
Accommodations in Deluxe hotels
12 Meals: Irish breakfast daily, plus 1 lunch and 4 dinners
Comprehensive touring program including entrance fees
Professional, English-speaking driver/guide

Highlights

Visit the ancient library at Trinity College and see the Book of Kells
Wander through the Japanese Gardens at the Irish National Stud
Explore Killarney National Park on a jaunting car ride
Relax on a ferry ride across the River Shannon
Marvel at breathtaking views on a Cliffs of Moher cruise
Smoked salmon tasting at the Burren Smokehouse
Learn about bread making at Dan O'Hara's Cottage
Enjoy a guided tour and tasting at the Tullamore Dew Distillery

Departs
New York City (NYC); other gateways on request
Themes
History & Culture
What to Expect
This moderately-paced, escorted tour includes a reasonable amount of walking or hiking and requires an average level of physical fitness.
Prepare for your trip Already booked? Find everything you need to know before you go, including information about passport & visa requirements, flights, luggage, and more.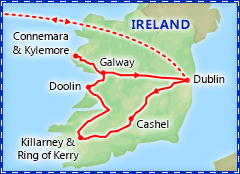 Start your journey amidst the cobbled streets and traditional pubs of Ireland's intimate capital, Dublin. Then head south and west through Counties Wicklow and Kerry along incredibly beautiful and rugged coastline, before heading north to bohemian and historic Galway. Along the way you'll explore the beautiful Japanese Gardens of Tully, view the awe-inspiring Cliffs of Moher, which on a clear day seem to run endlessly to the horizon as the sheer vertical cliffs dive perilously into the churning Atlantic, and travel through the Connemara Region, one of the most picturesque in all of Ireland, where Gaelic is still spoken.
On Splendid Ireland, you'll stay in Deluxe 5 star hotels throughout your entire journey, offering you a comfortable base to relax after your daily adventures. And in true Friendly Planet fashion, your flights, transfers, and sightseeing are also included at this incredible price. We know you won't soon forget the friendly people and warm hospitality, ancient history and modern culture, and endless emerald hills and dramatic coastlines of Ireland, and you can explore it all with Friendly Planet.
Itinerary
Day 1: Depart USA/Overnight Flight

Depart the USA on your overnight flight for Dublin

Day 2: Dublin

Accommodations: 2 nights Conrad Hotel, Dublin. Included meals: Dinner.

Upon arrival, you will be met and transferred to your hotel
Enjoy an afternoon walking tour of Dublin
Meet your group for a welcome drink before dinner

Full Day Itinerary: Upon arrival in Dublin, you will be met and transferred to your hotel. This afternoon, join a local guide and explore Dublin on a walking tour. Later this evening, meet your fellow travelers for a welcome drink at your hotel before dinner.

Day 3: Dublin's Fair City

Included meals: Breakfast & lunch.

View the Book of Kells at Trinity College's ancient library
Enjoy lunch at Ballyknocken House
Visit Russborough House, an exquisite Palladian mansion

Full Day Itinerary: This morning, visit Ireland's old University, Trinity College, founded in 1592 by Queen Elizabeth 1st. Visit the ancient library, which is home to the 9th century Book of Kells and contains over 20,000 manuscripts. Then, board your coach and depart Dublin for lunch at Ballyknocken House. This charming Victorian farmhouse is scenically located on a 280 acre farm and is home to celebrity chef and award winning food writer, Catherine Fulvio, who prides herself on continuing family tradition spanning over one hundred years in County Wicklow. Before returning to Dublin, visit Russborough House, built in 1740, this Palladian mansion is often referred to as the most beautiful in Ireland and is home to collections of paintings, antique furniture, silver, porcelain, and tapestries.

Day 4: Dublin & Kerry

Accommodations: 2 nights Muckross Park Hotel & Spa, Killarney. Included meals: Breakfast & dinner.

Stop at the Irish National Stud & Japanese Gardens
Visit the Rock of Cashel

Full Day Itinerary: After a hearty Irish breakfast, board your touring coach and depart Ireland's capitol and travel to County Kerry. En route, stop in County Kildare to visit the Irish National Stud & Japanese Gardens, a unique attraction and home to some of the world's most magnificent horses. The Irish National Stud is the only stud farm in Ireland that is open to the public. Set within the same site are the magnificent Japanese Gardens of Tully which were created between the years 1906 and 1910. Meander the stone paths that lead along trickling streams in the gardens, known throughout the world for their beauty and serenity. Next, visit the Rock of Cashel, which towers over the town of Cashel from its perch on a 200-foot high outcrop of limestone. Continue to Killarney and check into your hotel.

Day 5: Ring of Kerry

Included meals: Breakfast.

Tour the Iveragh Peninsula
Visit the Skellig Experience
Explore Muckross House & Gardens
Enjoy a jaunting car ride through Killarney National Park

Full Day Itinerary: Today you will discover the famous Ring of Kerry. Start with a visit to the Skellig Experience, a heritage center dedicated to life on the Skellig Islands. The Skellig Islands are found 12 km off the coast of Kerry. The larger island, Skellig Michael, a UNESCO World Heritage Site, was a monastic site occupied from the 6th throughout the 12th century. More recently, the island has been used to shoot scenes for the Star Wars film The Force Awakens. Continue along the Ring of Kerry until you return to Killarney. Upon your return to Killarney, visit the Muckross House & Gardens. Muckross House is a magnificent Victorian mansion built in 1843 and is one of Ireland's leading stately homes, beautifully situated amidst the spectacular scenery of Killarney National Park. Next, you will enjoy Killarney National Park by pony and trap (also known as a jaunting car) to discover areas of the park that you might not otherwise visit by foot. Relax aboard the jaunting car as your jarvey (driver) guides you through the magnificent scenery of Ireland's first National Park, an ecological treasure with native oak, yew, and evergreen trees, and home to the country's only native herd of red deer. The park was designated a UNESCO Biosphere Reserve in 1981 in recognition of its quality and diversity of species.

Day 6: The Cliffs of Moher & Galway

Accommodations: 2 nights Glenlo Abbey Hotel, Galway. Included meals: Breakfast & dinner.

Take a short ferry ride across the mouth of the river Shannon
View the Cliffs of Moher
Visit the Burren Smokehouse and enjoy a smoked salmon tasting

Full Day Itinerary: This morning travel northwards to Tarbert and take a short ferry ride across the mouth of the river Shannon to land on County Clare's shore at Killimer then travel along the coast to Doolin. Here you will take a ferry to view the Cliffs of Moher, the most majestic cliffs in Ireland which rise as high as 650 feet above the Atlantic Ocean and extend for over four miles in length. Return to the mainland and continue to the Burren Smokehouse, a family-run business established in 1989. You will learn about their unique smoking process and will also have the opportunity to sample some smoked salmon before departing. Continue to your hotel in Galway. Tonight, enjoy dinner aboard a restored Pullman train car at your hotel.

Day 7: Connemara & Kylemore Abbey

Included meals: Breakfast.

Visit Dan O'Hara's Cottage for a bread making demonstration
Explore Kylemore Abbey

Full Day Itinerary: Today you will explore the Connemara Region. Connemara is a land of lakes and rivers, bogs and mountains. Visit Dan O'Hara's Cottage for a soda bread making demonstration over an open fire. Next, visit Kylemore Abbey and Victorian Walled Garden in the Kylemore Pass in Connemara. The Kylemore castle built by Mitchell Henry, a business tycoon, surgeon, and politician from Manchester in 1868, is best described as neo-Gothic and the house still displays all the characteristics of the period. One of Kylemore Abbey's most famous features is its miniature cathedral, built in 1870 and known locally as the Gothic church. Return to Galway where you will have the evening at leisure. A complimentary coach transfer into Galway's city center will be offered this evening.

Day 8: Galway & Dublin

Accommodations: 1 night The Marker Hotel, Dublin. Included meals: Breakfast & dinner.

Explore Galway during a walking tour
Visit the Tullamore Dew Distillery
Enjoy a farewell dinner at a local restaurant

Full Day Itinerary: After breakfast, meet a local guide for a walking tour of Galway, a delightful city of narrow streets, colorful facades, stone and wooden shop fronts, good restaurants and busy pubs. Afterwards, you will have time to explore independently. Later, depart Galway for Dublin stopping en route in Offaly to visit the Tullamore Dew Distillery where you will have a guided tour, blending audio-visual and traditional storytelling, followed by a complimentary glass of Tullamore D.E.W. Irish Whiskey. Continue to Dublin and check in to your hotel. This evening, enjoy a farewell dinner with your fellow travelers at a local restaurant.

Day 9: Dublin/USA

Included meals: Breakfast.

Transfer to the airport for your return flight to the USA
see more
Loved experiencing the land of Ireland and its people. A great taste. Food was good, hotels were great, bus was roomy and comfortable. The tours were well planned and truly a taste of Ireland. There was so much done...that we could not have managed on our own.
Marci Sweeney