Japan Panorama
Tokyo, Japan's modern heart, iconic Mt. Fuji, the world heritage temples & gardens of Kyoto, Nara & Osaka; stay in deluxe 4 & 5 star hotels
Overview
Get updates about this package
from$4299Tour + Flights
10days
price per person, double occupancy,* based on May 7, 2020 departure from LAX
$400 Instant Savings. Expires Nov 14, 2019.* All prices reflect savings.
Style

Small Group Tour

Travel with a small, intimate group of no more than 24 likeminded travelers (and often much fewer), escorted by an English speaking guide and/or tour manager for some or all of your journey. More of these packages


Dedicated tour escorts & guides throughout

Departures
April – October 2020
Group Size
24 travelers max
Themes
History & Culture, Grand Tours
Activity Level

Recreational
What to Expect
This moderately-paced, locally hosted tour includes a reasonable amount of walking or hiking and requires an average level of physical fitness.
Already booked?
Find everything you need to know before you go, including information about passport & visa requirements, flights, luggage, and more.
Package includes
Flights
Coach
Transfers
Hotel
Meals
Guides
Round trip flights from Los Angeles via Singapore Airlines non-stop jet service including fuel surcharges and taxes and fees
All intra-Japan ground transportation
8 nights Deluxe and superior first class hotels with private bath
11 Meals: 8 breakfasts, 2 lunches & 1 dinner
Comprehensive, fully escorted touring program including entrance fees
Professional English-speaking local guides
Added-Value: ¥2,000 pre-paid Suica transit/e-money card
Optional add-ons
Kamakura & Enoshima Bay with lunch
Hiroshima & Miyajima
Why you'll love it
Visit Tokyo Skytree and the Imperial East Gardens
See Tokyo's famous Asakusa Kannon temple
Explore Mt. Fuji and enjoy a Komagatake Ropeway ride
Experience the high-speed Shinkansen (bullet train)
Marvel at the beautiful Golden Pavilion in Kyoto
See Osaka Castle and it's impressive fortifications
Enjoy a special farewell dinner in Osaka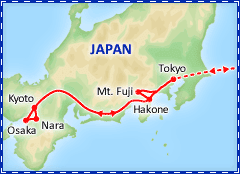 Now is your chance to take a once-in-a-lifetime Asian adventure vacation to Japan. Japan is a wonderful and fascinating destination. It's also very expensive—unless you're traveling with Friendly Planet! Our affordable Japan tour package lets you explore this ancient yet modern country for a truly remarkable price without compromising on quality. Fly to Japan via Singapore Airlines, voted the world's #1 airline for safety, comfort and service. Stay at beautiful and well-located 4- & 5-star hotels throughout the country, enjoying a lavish buffet breakfast daily.
Visit Tokyo, Japan's modern capital, Kyoto, ancient capital for over 1000 years, and Osaka, considered Japan's spiritual heartland, plus lots of other sites in between on this exceptional 10-day tour of Japan. But don't wait to reserve your spot! The ideal touring season for Japan is short, and at these prices, space will go very quickly.
Dates & Prices
Departure Dates & Prices
Instant Savings: Get $400 off if you book by Nov. 14, 2019!
Departures & Prices, with flights
2020 DEPARTURES
Depart / Return
Price
Instant
Savings
Instant
Savings
Expire
Your
Price
Departs: Thu, Apr 9, 2020
Returns: Sat, Apr 18, 2020
Book by Thu, Nov 14, 2019 (midnight ET) to get the Instant Savings!
Apr 9 – Apr 18
$4999
–$400
Nov 14
$4599
Book
Departs: Thu, May 7, 2020
Returns: Sat, May 16, 2020
Book by Thu, Nov 14, 2019 (midnight ET) to get the Instant Savings!
May 7 – May 16
$4699
–$400
Nov 14
$4299
Book
Departs: Thu, Jun 4, 2020
Returns: Sat, Jun 13, 2020
Book by Thu, Nov 14, 2019 (midnight ET) to get the Instant Savings!
Jun 4 – Jun 13
$4899
–$400
Nov 14
$4499
Book
Departs: Thu, Sep 3, 2020
Returns: Sat, Sep 12, 2020
Book by Thu, Nov 14, 2019 (midnight ET) to get the Instant Savings!
Sep 3 – Sep 12
$4799
–$400
Nov 14
$4399
Book
Departs: Thu, Oct 15, 2020
Returns: Sat, Oct 24, 2020
Book by Thu, Nov 14, 2019 (midnight ET) to get the Instant Savings!
Oct 15 – Oct 24
$4799
–$400
Nov 14
$4399
Book
If you want a few extra days to explore on your own, we may be able to arrange for you to stay later than the scheduled dates, including extra hotel nights and separate airport transfers, for an additional charge. Ask us about prices and availability when (or after) you reserve. More information Want to extend your trip?
Flights & Departure Cities
Departure Airports
Los Angeles (LAX)
included
This package includes round-trip flights from the city listed above. Please review the flight schedule, especially if you're booking connecting flights.
Hotels
Hotel Granvia Kyoto
Deluxe
Hotel Granvia Kyoto is found within the exceptional architectural structure of the JR Kyoto Station Complex. Because the hotel is in the center of the world-renowned international tourist destination of Kyoto, it is in walking distance of many popular temples, castles, and gardens. There are several other tourist attractions you can get to just by taking a short ride on the multiple public transportation options available. Hotel Granvia Kyoto features 534 simple yet elegantly decorated rooms designed to meet your traveling needs. There are several suites as well as 2 exclusive Granvia floors. The multiple diverse restaurants in the hotel serve many European dishes ranging from full course French meals to authentic Italian dinners. Traditional Japanese cuisine can be experienced in the many dining choices that have become some of the finest in Japan. You can enjoy the inspiring views of the ancient city while you have a drink and listen to live music alongside the nostalgic decor of the hotel's bars.
Imperial Hotel Tokyo
Deluxe
As a prestigious member of the Leading Hotels of the World, the 5-star Imperial Hotel Tokyo boasts an impressive historic pedigree. Centrally located just south of Tokyo Station and the Imperial Palace grounds, the property has long drawn a high-profile clientele. Rooms are situated in the main building or in the gleaming tower, and many look across 40-acre Hibiya Park, the Imperial Palace or the dazzling Ginza neighborhood. The hotel also features a number of health and beauty options including a barber, nail salon, cosmetic dentistry and luxurious spa treatments. The Imperial hotel's state-of-the-art fitness center, pool and sauna facilities are available to hotel guests for a small daily usage charge.
Osaka Marriott Miyako
Deluxe
Osaka Marriott Miyako Hotel occupies the 38th to 57th floors in the tallest building complex in Osaka, Japan. The hotel's location makes it easy to explore the exciting city; easy access to the every corner by subway and regional rail, and only 30 minutes from Kansai International Airport.The Osaka Marriott Miyako Hotel also features a number of on-site shops for your convenience as well as complimentary access to a 24-hr fitness center.
In the unlikely event that a particular hotel is not available, a similar or better hotel may be substituted.
Reviews
Check out independent, verified reviews from real travelers on
Feefo
.