Greek Island Special: 3 Day Cruise & Athens
This package is currently unavailable.
To be the first to know when we have more departures available, subscribe to our
Hot Deals
mailing list.
Overview
Featuring
A 3 day cruise to Mykonos, Santorini, Crete, and more, ending with a half day tour of Athens; independent adventure with flights & hotel included
Style

Independent Package

These un-escorted packages have no set schedule or guides, so you have the freedom and flexibility to explore on your own from your centrally-located hotel. More of these packages


Freedom to explore at your own pace; unescorted

Price Includes

Round trip flights from Newark (EWR) via Emirates Airlines including fuel surcharges and taxes and fees
1 night Deluxe hotel accommodation at the Royal Olympic Hotel in Athens
3 nights' standard inside cabins (cat. IB) aboard the Celestyal Olympia (2017), or Celestyal Crystal (2018)
Port charges included; 2017 sailings $119 per person, 2018 sailings $138 per person
Cruise Tips of $10 per person per day included
10 Meals: buffet breakfast in Athens and all meals aboard the cruise
On-board All-inclusive Alcoholic Drink Package
3 Shore Excursions: Ancient Ephesus, Minoan Palace of Knossos, and Santorini Oia Village Tour
Half day tour of Athens, including the Acropolis
All group transfers

Optional

Optional touring includes Patmos countryside tour with Hora & Grotto

Highlights

Enjoy an evening at leisure on the island of Mykonos
Discover ancient Ephesus
Spend the afternoon on the island of Patmos
Explore the Minoan Palace of Knossos in Crete
Tour Oia Village in Santorini
Visit Athens' highlights on a half day tour

What to Expect
This moderately-paced, locally hosted tour includes a reasonable amount of walking or hiking and requires an average level of physical fitness. This tour does not include a tour guide or escort.
Prepare for your trip Already booked? Find everything you need to know before you go, including information about passport & visa requirements, flights, luggage, and more.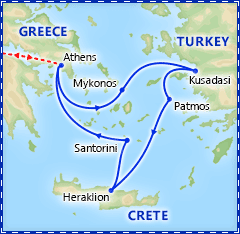 From the meandering indigo sea to the stony cliffs adorned with whitewashed buildings to the ruins of ancient civilizations, the Greek Isles and Athens are sure to take your breath away. Start your adventure in Athens, a city where history and modernity coalesce into a symphony of world-class sites, delicious dining and friendly people. Then sail into the mythical world of the Greek isles and enjoy four days of blissful Mediterranean sunshine and beaches, culturally rich and picture-perfect towns, and some of the best food and wine in the world.
Savvy travelers know that the best time to travel to Greece is on either side of the summer high season - the "shoulder season" in Sep-Oct and Mar-Apr when the weather is still warm, the days are still long and the sunsets spectacular, the food is still seasonal, but the crowds are gone. That's why we worked to negotiate these spectacular rates for shoulder season sailings with our partner Celestyal Cruises and our airline, Emirates. You'll save hundreds of dollars over comparable cruise packages.
Our package includes round-trip flights, superior hotel accommodations in Athens for one night, a half day city tour of Athens, a Greek Island cruise for three nights with three shore excursions, buffet breakfast daily, all meals aboard the cruise, and transfers. Plus enjoy time to discover the wonders of Greece on your own. All the flexibility and fun is yours, at an unbeatable price!
Itinerary
Day 1: Depart USA

Check in for your overnight flight to Greece

Day 2: Athens

Accommodations: 1 night Royal Olympic Hotel or similar, Athens.

Arrive in Athens, where you'll be met and escorted to your hotel
Enjoy the rest of the day at leisure

Full Day Itinerary: Arrive today in Athens. You'll be met by our representative and then escorted to your hotel, centrally located near Constitution Square and the famous Plaka (Old Town). Athens, the birthplace of western civilization, once hailed as the Paris of the Mediterranean, is now a bustling modern city, a colorful tapestry of eastern and western influences, full of outdoor cafes, pedestrian streets, parks and gardens, street bazaars, dilapidated mansions and ancient ruins.

Day 3: Athens, Piraeus & Mykonos

Accommodations: 3 nights Celestyal Olympia on Sep 6, Sep 20, Oct 4 & Oct 18 departures, Celestyal Crystal for Mar 21, Mar 28, Apr 4, Apr 11 & Apr 25 departures. Included meals: Breakfast, lunch & dinner.

Board your cruise ship and set sail
Evening at leisure on the island of Mykonos

Full Day Itinerary: Transfer to Piraeus this morning to board your cruise ship. Spend the afternoon enjoying the sun, sea breezes, pool, and other onboard facilities.

This evening, arrive at the gorgeous island of Mykonos and transfer from the port via complimentary shuttle. Enjoy an independent stroll through Mykonos town with its labyrinth of winding alleyways and whitewashed buildings, basket-laden donkeys, cascading geraniums and upscale shops and cafes.

Day 4: Kusadasi, Turkey & Patmos, Greece

Included meals: Breakfast, lunch & dinner.

Half day sightseeing tour of ancient Ephesus
Afternoon on the Greek island of Patmos

Full Day Itinerary: Arrive in Kusadasi, Turkey this morning. Just ten kilometers from the port is the ancient city of Ephesus, where you will find immortal relics of the Hellenistic, Roman and Early Christian era. At the archaeological site, you will be given a guided tour among the Agora, the Odeon, the Library of Celsus, the marble-paved main Street of Kouretes, the Baths of Scholastica, Trajan's Fountain, the Public Latrines, the Residences of the Patricians, the Prytaneum, and the Temple of Hadrian.

The Great Theatre, built in the 4th century B.C. could accommodate 24,000 spectators and is famous even today for its acoustics. The finds from the excavations, which have yet brought to light only 13% of ancient Ephesus, reside in the Archaeological Museum of Ephesus, in the city of Seljuk. During the excursion you will have the opportunity to ramble, bargain for jewelry, cosmetics or leather products at small shops.

Later this afternoon, return to your ship for lunch aboard as you sail toward Patmos, Greece. Disembark at Skala harbor, a lively place with whitewashed houses, flowered courtyards, tavernas and shops. The Island of Patmos is famous in history as the place where St. John wrote the Book of Revelation, which you can explore on an optional excursion.

Optional Excursion: Patmos countryside tour with Hora & Grotto, $73 (purchased locally). Begin your panoramic tour from the port and drive to the central part of the island. At the main town, Chora, you will visit the Cave of the Apocalypse. This grotto is believed to be the spot where John received the visions that he recorded in the Book of Revelation. The nearby Monastery of St. John the Theologian, built on one of the island's highest points, houses priceless icons and manuscripts in its treasury. Together, the grotto and monastery have been declared a UNESCO World Heritage Site.

Continue to the windmills of Chora, once the landmark of all Aegean Islands. Drive around the island to see its outstanding natural beauty, comprised of rocky hills, tongues of land reaching out into the sea, and an intricate coastline of tranquil bays and coves. Your tour will concluded in Scala, a quaint port town. A refreshment or coffee will be offered at Airon Café, the oldest and most picturesque café in town.

Adults: $73. Children: $49. Duration: 2 hours.

Day 5: Heraklion & Santorini

Included meals: Breakfast, lunch & dinner.

Explore the Minoan Palace of Knossos, First European Civilization
Half day sightseeing tour of Oia Village on Santorini

Full Day Itinerary: Arrive in Heraklion early this morning. Crete is the largest and the most rugged of the Greek islands. It is also the home of the great Minoan Civilization and the mythological home of Zeus. A shore excursion will take you to see the ruins of Knossos, the ceremonial and political center of the Minoan civilization on Crete, just five kilometers from Heraklion city center.

Here, Sir Arthur Evans' archeological discoveries revealed a civilization dating back to 4000 B.C., when a great empire once flourished on the island. Based on the wealth of artifacts found, Evans theorized that this was the site of the ancient Minoan Kingdom. These findings will be viewed in detail, as your guide will lead you on a journey of discovery to learn of the sophisticated culture that flourished thousands of years ago on this island.

The palace at Knossos was an intricate collection of over 1,000 interlocking rooms, including the Hall of the Royal Guard, the Hall of the Double Axes, the King's Chamber with the alabaster throne, the Queen's Apartment, as well as beautiful courtyards and shrines. The palace was used as a religious and administrative center, as well as for workshops for artisans and food processing. The ruins have largely been excavated and much of them colorfully painted and restored, decorated with frescoes and shields.

Back in Heraklion, the open air market is a must-see, where a boisterous crowd buys and sells everything from goats and sheep to huge cauldrons of fresh yogurt. Other points of interest here include the Archaeological Museum, one of the finest in Greece, housing exquisite findings from Knossos and other Minoan ruins, numerous Venetian fortresses, fountains and loggias scattered throughout the city and the Historical Museum of Crete, with its Byzantine and folklore collections.

Return to the ship to continue sailing to Santorini. This striking island is a volcanic crater immersed in the sea. The island is famous for its breathtaking and rugged landscapes, whitewashed houses, open-air cafes, and glittering boutiques which cling to steep cliffs, accessible by foot, cable car or mule. Enjoy an included half day of sightseeing. Begin with a scenic drive, from which you can admire the panoramic views of the Aegean Sea and the neighboring islands. Continue to Oia Village, perched on the Caldera rim, and an excellent example of Cycladic architecture. Its cobblestone streets, whitewashed houses, and blue shutters and domes are some of the most photogenic in all of Greece. Your coach will bring you back to the port of Athinios, where you'll return to the ship via tender boat for a final evening at sea.

Walking in the archeological site of Knossos will be on uneven gravel surfaces. Passengers may not be allowed to enter the site with big bags or backpacks.

Day 6: Piraeus & Athens

Included meals: Breakfast.

Disembark in Athens
Explore Athens on a half day tour
Bid farewell to Athens as you're escorted to the airport to board your return flight
Arrive in the USA later today

Full Day Itinerary: After breakfast, disembark from your ship at Piraeus. Then, explore Athens on your half day tour.

The striking contrast between breathtaking monuments of a glorious past and modern elegant structures is what you will enjoy today. Visit the Acropolis, the crowning beauty and glory of Ancient Athens, with its many monuments atop its rocky base, including the awesome Parthenon, the Propylea, the temple of Athena Nike and the Erechtheion, with its Porch of Maidens.

Drive to the Roman Temple of Olympic Zeus, the Panathinaikon Stadium (site of the first modern Olympic Games in 1896), and the Tomb of the Unknown Soldier in front of the Parliament House on Constitution Square. See views of government buildings and elegant structures of the 19th century. Drive along Panepistimiou Avenue and view the Catholic Cathedral, the Academy, the University, and the National Library. Conclude your tour with a visit to the new Acropolis Museum, a marvel of architecture with a full exhibition of the glory of Ancient Athens.

After your guided exploration of Athens, you will be transferred to the airport for your return flight.
Note: At the ports of Mykonos, Patmos & Santorini, disembarkation is by tender boats, weather permitting. Kusadasi & Patmos stops might be in inverted order. Passengers taking the optional shore excursions disembark fist. The itinerary listed, including ports of call, embarkation/disembarkation times, shore excursions and prices, were correct at time of publication. We and our partner, Celestyal Cruise Lines, will do our utmost to adhere to the itinerary as listed, but due to sea conditions and other factors, minor changes to the itinerary may be necessary, and some shore excursions shown may not be available. As necessary, Celestyal Cruise Lines may also substitute another ship from their fleet of similar size and amenities. We will do our very best to immediately inform travelers of any such changes.