Dazzling Dubai & Kenya Safari
The glamorous desert oasis of Dubai, then Nairobi & 4 game drives in Lake Naivasha & Masai Mara National Game Reserve
Overview
Get updates about this package
from$2799Tour + Flights
10days
price per person, double occupancy,* based on Nov 17, 2019 departure from JFK
$300 Instant Savings. Expires Jun 27, 2019.* All prices reflect savings.
Style

Small Group Tour

Travel with a small, intimate group of 15-24 likeminded travelers escorted by an English speaking guide and/or tour manager for some or all of your journey. More of these packages


Tour escorts & guides for some segments

Departures
September – December 2019
Group Size
24 travelers max
Themes
Active, Nature & Wildlife
Activity Level

Recreational
What to Expect
This moderately-paced, partially escorted tour includes a reasonable amount of walking or hiking and requires an average level of physical fitness. This tour also includes long scenic drives between destinations, sometimes on bumpy unpaved roads and may have limited rest stops.
Already booked?
Find everything you need to know before you go, including information about passport & visa requirements, flights, luggage, and more.
Package Includes
Flights
Coach
Transfers
Hotel
Meals
Guides
Round trip flights via Emirates Airlines including fuel surcharges, taxes and fees
7 nights accommodations in deluxe hotels and safari camps plus day use room on Day 9
13 meals: 7 breakfasts, 3 lunches & 3 dinners
All transfers and ground transportation
Guided panoramic tour of Dubai
4 game drives with professional English-speaking drivers and game rangers in Kenya
Optional add-ons
Exciting optional excursions in Dubai and Kenya
Optional day trip from Dubai to Abu Dhabi
Flights from Boston (BOS), Chicago (ORD), Dallas-Fort Worth (DFW), Houston (IAH), Los Angeles (LAX), Newark (EWR), Orlando (MCO), San Francisco (SFO), Seattle (SEA), and Washington D.C. Dulles (IAD). Request pricing when making your reservation.
Why you'll love it
Independent stay in Dubai, and Safari in Kenya including Nairobi, Lake Naivasha, Hell's Gate National Park and Masai Mara National Game Reserve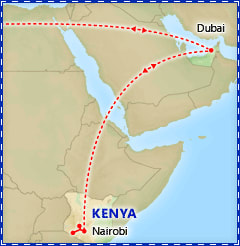 Prepare to be dazzled twice on this innovative tour package to Dubai and Kenya. Dubai is home to the world's tallest building, a man-made island archipelago created for luxury living and vacationing, an indoor ski resort complete with ski lift, plenty of fine dining, and an ancient culture that has leapt from desert tent to skyscraper condo in less than 50 years. But your vacation in Dubai is only one-half of this exotic tour package.
In Kenya, you'll explore legendary game reserves filled with magnificent wildlife and sweeping vistas that seem to go on forever. Everywhere you go, from Nairobi to Lake Naivasha and the plains of the Masai Mara, the people are friendly and welcoming.
But don't wait to reserve your place. Space is definitely limited, and at these prices, it will surely sell out fast!
Dates & Prices
Departure Dates & Prices
Instant Savings: Get $300 off if you book by Jun. 27, 2019!
Departures & Prices, with flights
2019 DEPARTURES
Depart / Return
Price
Instant
Savings
Instant
Savings
Expire
Your
Price
Departs: Sun, Sep 1, 2019
Returns: Tue, Sep 10, 2019
Book by Thu, Jun 27, 2019 (midnight ET) to get the Instant Savings!
Sep 1 – Sep 10
$3499
–$300
Jun 27
$3199
Select
Departs: Sun, Sep 15, 2019
Returns: Tue, Sep 24, 2019

Sep 15 – Sep 24
$3299
–
–
–
Closed
Departs: Sun, Sep 29, 2019
Returns: Tue, Oct 8, 2019
Book by Thu, Jun 27, 2019 (midnight ET) to get the Instant Savings!
Sep 29 – Oct 8
$3299
–$300
Jun 27
$2999
Select
Departs: Sun, Oct 13, 2019
Returns: Tue, Oct 22, 2019
Book by Thu, Jun 27, 2019 (midnight ET) to get the Instant Savings!
Oct 13 – Oct 22
$3199
–$300
Jun 27
$2899
Select
Departs: Sun, Nov 17, 2019
Returns: Tue, Nov 26, 2019
Book by Thu, Jun 27, 2019 (midnight ET) to get the Instant Savings!
Nov 17 – Nov 26
$3099
–$300
Jun 27
$2799
Select
Departs: Sun, Dec 1, 2019
Returns: Tue, Dec 10, 2019
Book by Thu, Jun 27, 2019 (midnight ET) to get the Instant Savings!
Dec 1 – Dec 10
$3199
–$300
Jun 27
$2899
Select
If you want a few extra days to explore on your own, we may be able to arrange for you to stay later than the scheduled dates, including extra hotel nights and separate airport transfers, for an additional charge. Ask us about prices and availability when you reserve. More information Want to extend your trip?
Options & Fees
Dazzling Dubai & Kenya Safari
Rooming Selection
Double occupancy
included
Single room supplement
+$799
Optional Excursions
Dubai Optional Excursions Package1
+$290
Guaranteed Early Check-in, Dubai2
Double Occupancy
+$120
Single Occupancy
+$240
1. Includes: Half Day Dubai City Tour, Burj Khalifa, Desert Safari with Dinner, and Abu Dhabi Day Tour
2. Your room will be booked to guarantee it is available if you arrive at the hotel before 3PM.
Seperately Paid Fees
Kenya Visa Fee (paid separately)
+$50
So that we can offer you the best deals, our packages are, like most hotels and cruises, priced based on double occupancy rooms or cabins. We charge solo travelers an extra fee to cover the extra costs of single occupancy rooms or cabins. (Consider: if you booked a $200/night hotel room solo, you would pay the $200 yourself; but if a couple booked the same room, each one would pay only $100.) But you only pay extra for the rooms or cabins, nothing else, including meals, sightseeing, tips, etc.

Want to find a roommate and avoid single occupancy fees? We can help! Learn more Why are single rooms more?
Flights & Departure Cities
Departure Airports
New York Kennedy (JFK)1
included
1. For flights from JFK, upgrades may be available to Business Class starting from $5,000. For actual prices and availability from this or other cities, please make your request during the reservation process so that our air team can check the availability and provide you with the exact rate for your chosen travel date. Rates and space are subject to availability with the airline, an increased deposit may be required to confirm a seating upgrade.
This package includes round-trip flights from the city listed above. Please review the flight schedule, especially if you're booking connecting flights.
Want to fly from another city? This tour requires flights via Emirates Airlines. Possible alternate departure cities are: Boston, Chicago, Dallas, Houston, Los Angeles, Newark, Orlando, San Francisco, Seattle, Washington D.C. Ask us for a quote for flights from your preferred city when you reserve, and we'll get back to you with the price and availability within 3 business days. Of course, you can also book your own connecting flights. More information
Itinerary
Day 1: Depart USA

Check in for your overnight flight to Dubai

Day 2: Dubai

Accommodations: 3 nights JW Marriott Marquis or similar, Dubai.

Arrive in Dubai, meet our representatives, and transfer to your centrally located hotel

Day 3: Dubai

Included meals: Breakfast.

Enjoy a guided panoramic tour of Dubai -- see the highlights of this amazing place
The balance of the day is at leisure in one of the most dazzling cities in the world, or join several exciting optional excursions

Optional Excursion: Half Day Dubai City Tour, $65. Today's exciting optional morning tour will take you to picturesque Dubai Creek, which the Ancient Greeks called the River Zara. The first settlements by the Bani Yas tribe were along its banks, and later it served as a port for ships coming from as far as India and East Africa. Today, this saltwater creek divides the modern city into two parts, Deira on the north and Bur Dubai to the south, and remains a busy waterway both for traditional dhows and sleek luxury yachts. This is your first photo opportunity with a magnificent panorama of the city and its amazing futuristic skyline.

Next stop is the Bastakiya district, where traditional courtyard houses, with characteristic wind towers that cleverly catch the breezes to cool the houses, line the narrow alleys. Many of the houses in this picturesque area of Dubai, previously home to the city's merchants, have been lovingly restored by proud locals who wish to preserve the unique ambience of the district.

Continue to the Dubai Museum, housed in the massive, restored Al Fahidi Fort. Inside, lifelike dioramas offer a fascinating view of life in Dubai before the discovery of oil. You'll learn the importance of the date palm to the desert culture, the maritime traditions of fishing and pearl-diving, boat building and much more. Take a walk through the bustling, exotic souks, where you'll find beautiful and bargain-priced textiles, spices and gold. Another highlight of your city tour is a chance to take one of Dubai's most reliable and inexpensive forms of transportation, the Abra water taxi.

Your coach will bring you back to your hotel.

Optional Excursion: Burj Khalifa, $59. In the afternoon, you may choose to independently visit the Burj Khalifa (formerly known as Burj Dubai), officially opened in 2010 as the tallest building in the world. This miracle of international cooperation and coordination houses a luxury Armani hotel, offices of some of the world's most successful companies, and for a lucky few, homes that are as high as the clouds. Take in sweeping views of the city from the breathtakingly high "At the Top" observation deck.

Optional Excursion: Desert Safari & BBQ Dinner, $90. For those in the mood for adventure, in the late afternoon, set out on an optional desert safari tour, where you'll discover the vastness and stark beauty of the desert that surrounds Dubai. Experience an exciting jeep ride over the surrounding sand dunes. You'll also enjoy a traditional BBQ dinner and live belly dancing entertainment on this exciting optional tour. *The sand dunes jeep ride is not recommended for people with neck, back or cardiac concerns.

Day 4: Dubai

Included meals: Breakfast.

Relax and explore on your own, or join an optional excursion to Abu Dhabi

Optional Excursion: Full Day Abu Dhabi, $120. Today, see another sophisticated city of the United Arab Emirates, Abu Dhabi. Enjoy a panoramic view of Jebel Ali, the largest man-made port, en route to the iconic symbol of Abu Dhabi, the Sheikh Zayed Grand Mosque. Later, drive along the sweeping curve of the Corniche, replete with parks and fountains, from which you'll enjoy a contrast of modern skyscrapers against the sparkling waters of the Persian Gulf. Visit the Heritage Village, and learn about the history of Abu Dhabi in a reconstructed oasis. Walk through the open-air museum and see craftsmen demonstrate traditional skills. Later, pass by the Sheik Khalifa Palace, home to the president of the UAE. Afterwards, take a photo stop at Yas Island, where the Ferrari World theme park and Formula 1 race track are located. Return to Dubai.

Optional Excursion: Dhow Dinner Cruise, $85 (purchased locally). This evening, we recommend an optional dinner cruise by dhow boat on the Dubai Creek. A magnificent view of both sides of Dubai Creek illuminated by night adds to the charm of this wonderful way to experience Dubai.

Day 5: Dubai & Nairobi

Accommodations: 1 night Intercontinental Hotel or similar, Nairobi. Included meals: Breakfast.

Transfer to the airport for your flight to Nairobi
Upon arrival in Nairobi, following customs and immigration formalities, meet our representative and transfer to your hotel.

Day 6: Nairobi & Lake Naivasha

Accommodations: 1 night Lake Naivasha Country Club or similar. Included meals: Breakfast, lunch & dinner.

Depart Nairobi for Lake Naivasha
Afternoon game drive in Hell's Gate National Park

Full Day Itinerary: This morning you will drive to Lake Naivasha, one of the lakes on the floor of the Great Rift Valley. The area boasts of over 400 different species of birds, a sizeable population of hippos and a large variety of fish. Upon arrival at your lodge, enjoy lunch and check into your room. Late this afternoon, you will drive to Hell's Gate National Park for afternoon game drive. The national park's biodiversity includes more than 100 species of birds, Buffalo, Zebra, Eland, Thomson Gazelle, Klipsringer and Chandler's Mountain Reedbuck. Return to the lodge for dinner and overnight.

Day 7: Lake Naivasha & Masai Mara National Game Reserve

Accommodations: 2 nights Masai Mara Sopa Lodge or similar. Included meals: Breakfast, lunch & dinner.

Drive via the scenic Rift Valley to the Masai Mara National Reserve
Afternoon game drive

Full Day Itinerary: After breakfast, drive west down the scenic Rift Valley escarpments and past the township of Narok in the Masai country to Masai Mara National Reserve. This park offers wonderful scenery and plenty of game viewing. It is perhaps the only region remaining in Kenya where the visitor can see animals in the same abundance as existed a century ago.

Arrive at your lodge in time for lunch. Later this afternoon, set off for the afternoon game drive that will continue until sunset.

Day 8: Masai Mara National Game Reserve

Included meals: Breakfast, lunch & dinner.

Morning game drive, or take an optional hot air balloon safari
Lunch at the lodge, followed by some free time to relax
Late afternoon game drive

Full Day Itinerary: Continue your discovery of the many species of game in the park today on two drives, one this morning and another later in the afternoon. After lunch, enjoy some leisure time at the lodge, including a refreshing swim in the pool.

Optional Excursion: Masai Mara Hot Air Balloon Safari & Champagne Breakfast, $450 (purchased locally). Enjoy a once-in-a-lifetime opportunity to take a balloon ride across the Masai Mara. Weather conditions permitting, your flight begins in the pre-dawn hours, when the view over the park is most magnificent. Toward the end of your adventure, you'll rise to a height of 1,500 feet for a panoramic view of the twisting Mara River and the savannah below. After an hour or so in the air, your safari finishes with a champagne breakfast in the bush, cooked on the balloon's burners. Flight may not operate if weather conditions are not suitable.

Day 9: Masai Mara, Nairobi & Dubai

Accommodations: Crowne Plaza Nairobi Airport or similar (day-use room).

Included meals: Breakfast.

Drive back to Nairobi
Afternoon at leisure for some last minute shopping, or relax in your day use room.
Later, transfer to Jomo Kenyatta Airport for your overnight flight home via Dubai
Passengers returning to Dallas (DFW) or Washington D.C. (IAD) will overnight in Nairobi, departing Day 10 on an overnight flight via Dubai and arriving home on Day 11

Day 10: Arrive USA

Your adventure ends today as you arrive in the USA
Dubai Optional Excursions Package: $290
Save by pre-booking a discounted package of our most popular optional excursions:
Dubai City Tour (Day 3)
Burj Khalifa (Day 3)
Desert Safari & BBQ Dinner (Day 3)
Abu Dhabi (Day 4)
You can book these excursions individually in Dubai. But you can save over $40 if you purchase this special package ahead of time—with or before your final payment. These are not "seat in coach" excursions that pick up passengers at various hotels; all are operated for Friendly Planet groups only. (A minimum of 4 passengers is required for optional excursions to operate).
Hotels
JW Marriott Marquis Hotel Dubai
Deluxe
The 5 star JW Marriott Marquis Hotel Dubai is conveniently located in the business district of Dubai. Its location offers guests easy access to notable attractions, such as the world-renowned Dubai Mall and the jaw-dropping Burj Khalifa.
In the unlikely event that a particular hotel is not available, a similar or better hotel may be substituted.
Reviews
Check out independent, verified reviews from real travelers on
Feefo
.