Captivating Cuba
from$3549Tour + Flights
8days
Flights
Coach
Transfers
Hotel
Meals
Guides
price per person, double occupancy,* based on Jun 11, 2019 departure from MIA
$1600 Early Bird Discount. Expires Dec 20, 2018.* All prices reflect savings.
Overview
Featuring
An encompassing Cuba tour: Havana, Cojimar, Varadero, Trinidad, Santa Clara & Sancti Spiritus
Style

Small Group Tour

Travel with a small, intimate group of 15-24 likeminded travelers escorted by an English speaking guide and/or tour manager for some or all of your journey. More of these packages


24 travelers max, dedicated tour escorts & guides throughout

Departures
Scheduled Dates: 9 open departures, March 2019 – January 2020
Price Includes

Non-stop flights from Miami to Santa Clara & Havana to Miami, including fuel surcharges and taxes and fees
U.S. Treasury Department, OFAC License Certification and Authorization Letter
Cuba Entrance Visa & Departure Tax
All land transportation, transfers & porterage in Cuba
7 nights superior first class hotel accommodations in Cuba
17 meals: 7 breakfasts, 6 lunches and 4 dinners
Comprehensive educational exchange program, including entrance fees
Friendly Planet escort
Professional, English-speaking local guide, who will facilitate the educational exchanges with Cubans
Health insurance in Cuba (mandatory)

Optional

Pre-Night stay in Miami
Post-Night stay in Miami

Highlights

Explore the charming, Spanish Colonial towns of Sancti Spiritus and Trinidad
Learn about the Afro-Cuban religion, Santeria, at Templo de Yemaya
Step back in history at Che Guevara Square
Meet a talented fashion designer and a woodcraft expert at their home workshop near Varadero
Walk in the footsteps of Ernest Hemingway at Finca Vigia
Take a ride in Classic cars to a workshop where the antique treasures are maintained

Departs
Miami (MIA); other gateways on request (flight schedule)
Themes
History & Culture
What to Expect
This fast-paced, escorted educational program includes a reasonable amount of walking or hiking and requires an average level of physical fitness.
Prepare for your trip Already booked? Find everything you need to know before you go, including information about passport & visa requirements, flights, luggage, and more.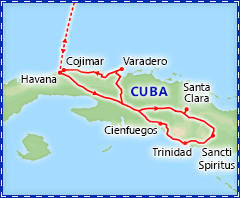 You'll truly be captivated and delighted by all the aspects of Cuba you'll discover on this engaging and comprehensive tour covering a large swath of the island. From the picturesque Spanish Colonial towns of Sancti Spiritus, Santa Clara and Trinidad to one of the best beaches in Cuba, Varadero, to the bustling city of Havana, Cuba's political and cultural center, you'll meet and interact with Cubans, where they work, live and play. You'll discover why the world loves Cuban music, meet some of the best up-and-coming artists on the island, and enjoy meals at local paladars where young entrepreneurs are taking advantage of relaxing laws to build private business in Cuba.
With included, scheduled flights, fully guided touring, the services of one of our gifted tour managers, great hotel accommodations in boutique properties and 5-star hotels and beach resorts, fully inclusive programming and 17 included meals, this is one of the best bargains in Cuba travel available anywhere.
We're still going to Cuba!
Our People-to-People tours are still legal and not impacted by recent changes in U.S. policy. Questions? See our
Cuba FAQs
.
Itinerary
Day 1: Miami/Santa Clara & Sancti Spiritus

Accommodations: 2 nights Hotel Plaza, Hotel del Rijo or Hotel Don Florencio, Sancti Spiritus. Included meals: Dinner.

Depart the USA on your flight for Cuba
Drive to Sancti Spiritus
Dinner at a local restaurant or paladar
Join Cubans at Casa de la Trova for a neighborhood block party (time & energy level permitting)

Full Day Itinerary: Today, board your non-stop flight bound for Cuba at Miami International Airport.

¡Bienvenidos a Cuba! You are welcomed by your private Cuban National Guide holding a Friendly Planet sign outside the arrivals terminal at the Santa Clara Airport. Board your air-conditioned coach, and jump right in as you head directly to your first destination in Cuba.

Drive to the picturesque town of Sancti Spíritus, one of the original seven cities founded in Cuba by the Spanish five centuries ago, and home to Cuba's oldest church, the Parroquial Mayor.

Check in to the hotel. This evening, the group will meet for dinner at a local paladar (privately owned restaurant).

After dinner, join Cubans at Casa de la Trova or other places of this charming city where people from all walks of life and generations and come to eat, drink, build friends, and discuss neighborhood issues. Enjoy this experience, and participate in discussions with locals about community life in Cuba and the U.S.

Day 2: Sancti Spiritus & Trinidad

Included meals: Breakfast & lunch.

Stop at the Hacienda de Manaca Iznaga
Visit Casa del Afarero, a pottery house
Continue to a casa particular or bed and breakfast
Enjoy lunch at a local paladar
Learn about the religion of Santeria at Templo de Yemaya
Explore the historic town on your own

Full Day Itinerary: After breakfast, drive to Hacienda de Manaca Iznaga, located 20-25 minutes from Trinidad, in the heart of the Valley de los Ingenios, a series of valleys once known as a Cuba's center for sugar production.

Then, continue on to Trinidad, one of the best preserved colonial cities in all of Latin America and a World Heritage Site since 1988 for its architectural and historical importance. For centuries a sugar production center, landowners gained enormous wealth, building stately mansions and centers of art and culture.

Visit Casa del Alfarero, a pottery house that was founded and has been managed by the Santander Family for generations. Today you'll learn the process of ceramic production and have the opportunity to create a piece of your own.

Enjoy a tour and discussion with the owners at one of Trinidad's many "casas particulares" or bed and breakfasts. Learn how bed and breakfasts are one of Cuba's new entrepreneurial opportunities in a society where the state typically owns most enterprises. Ask questions and share insights about U.S. businesses, including the ever popular bed and breakfasts that are ubiquitous in the U.S.

Lunch today is at a paladar in Trinidad.

Visit Templo de Yemaya where a Santeria practitioner, along with some of the religion's devotees, explain the basic principles of Santeria, an interesting blend of African and catholic elements.

This afternoon, you will have the opportunity to explore the historic town, where you will find lots of open-air craft markets, shops, museums, and bars. This lively area is also a great spot to take unforgettable pictures.

Return to your hotel in Sancti Spiritus.

Tonight, enjoy dinner on your own. We recommend dining at a paladar. Feel free to choose one from the list we provide or ask your guides for alternative recommendations.

Day 3: Sancti Spiritus, Santa Clara & Varadero

Accommodations: 2 nights Melia Varadero. Included meals: Breakfast, lunch & dinner.

Drive to Santa Clara
Visit the Santa Clara Performing Arts School or a community project
Stop at the Che Guevara Mausoleum (Note: Temporarily closed)
Enjoy lunch at the Los Caneyes Hotel
Continue on to Varadero Beach

Full Day Itinerary: After breakfast this morning, depart from Sancti Spiritus and visit the town of Santa Clara.

Enjoy a special visit to the Santa Clara Music and Performing Arts School, with dance, theater and music performances by the students. Participate in a discussion with faculty and students about the role of music and education in the USA, and the impact of music on Cuban life and its importance in education in Cuba. Please note that this visit is only possible during the school year (September through early June). Should the school not be available or not in session, you'll instead enjoy an equally interesting visit to another community project in Santa Clara.

Stop at the Che Guevara Mausoleum. The impressive monument faces Revolution square and is the place where his mortal remains rest.

Lunch will be served buffet style in the Los Caneyes Hotel in Santa Clara.

Then, continue on to the beautiful Varadero beach, the most famous beach on the Cuban mainland, and check into your hotel.

After check-in, enjoy the resort town of Varadero and your beautiful, all-inclusive hotel at your leisure.

NOTE: The Che Guevara Mausoleum is closed until further notice due to maintenance.

Day 4: Varadero

Included meals: Breakfast, lunch & dinner.

Learn about the official national dance and musical genre of Cuba at the Danzón's Club
Visit a unique craft workshop

Full Day Itinerary: After breakfast at the hotel this morning, we'll depart for a visit to the Danzón's Club in Varadero. Danzón is the official national dance and musical genre of Cuba. It originated in Matanzas and is practiced by hundreds of Cubans throughout the country. The clubs of "danzoneros" are dedicated to preserving the tradition and history of this dance. While visiting the Danzón's Club you'll have the opportunity to talk with its members (mostly elderly) about the history and characteristics of this dance. Of course, you'll also have the distinct pleasure of joining the members while they dance to this traditional and lilting rhythm.

Our next stop will be a visit to a unique Craft Workshop on the outskirts of Varadero. Artisans, Mariela Alemán Orosco and Marilín Martínez Barrio, members of the Cuban Cultural Fund and the Cuban Association of Artisans and Artists, have received prizes and recognition for their creative work. During the visit, you'll tour the workshop and experience the creative process as it is taking place.

Return to the hotel for lunch and enjoy the remainder of the day at leisure.

Tonight, the group will have the dinner in one of the hotel's specialty restaurants.

Day 5: Varadero, Alamar, Cojimar & Havana

Accommodations: 3 nights Melia Cohiba, Havana. Included meals: Breakfast & lunch.

Visit co-op community gardens in Alamar called Organopónicos
Enjoy lunch in the fishing village of Cojimar
View the interior of Ernest Hemingway's home, Finca Vigia, from open doors and windows
Discover Jose Fuster's whimsical "Fusterlandia"

Full Day Itinerary: After breakfast, check out of our hotel in Varadero and drive to the district of Alamar on the outskirts of Havana. Started as an expansive social housing project in the 1970's, these Soviet-style pre-fabricated concrete apartment blocks are now home to hundreds of thousands of Cubans. Among the buildings in Alamar are community gardens, called "Organopónicos," where residents grow fruit, vegetables and herbs for their own consumption and local sale. Similar to co-op and community gardens in the United States, these Organopónicos facilitate community development and offer Alamar's residents access to fresh produce. Enjoy a visit to one of these Organopónicos, which few visitors to Cuba have the opportunity to do.

You'll continue on to the quaint fishing village of Cojimar, the setting for Hemingway's book, The Old Man and the Sea, and enjoy lunch at a local paladar. La Terraza Restaurant, where the book's character Santiago brings in the remains of his epic fish, still stands today, and the pier where Hemingway's fishing boat docked can be seen from the shore.

Then, drive to Hemingway's Cuba retreat. There are many historical and cultural ties between Cuba and the United States, and one of the best known is the legacy of Ernest Hemingway, who lived more than 20 years in Cuba, from 1939 to 1960. You'll visit Hemingway's beautiful mansion, Finca Vigía, (literally meaning "lookout farm"), now a museum. While visitors cannot enter the house itself, the large, open windows and doors around the entire property allow plenty of unobstructed views of his preserved 9,000 book library, as well as his animal trophies and famous fishing boat, Pilar.

On the way back to Havana, stop in Jaimanitas, where you'll visit "Fusterlandia," the home and surrounding neighborhood of "The Picasso of the Caribbean," Jose Fuster. Starting with a small wooden home as his canvas, Mr. Fuster has turned his dream into reality and transformed not just his own home but the entire neighborhood into a unique and colorful artistic landscape. Using the money he makes from selling his artwork, Jose adorns the community with sculptures and mosaics galore.

Proceed to Havana and check into your hotel.

Enjoy dinner on your own this evening. We recommend dining at a paladar. Feel free to choose one from the list we provided or ask your guides for alternative recommendations.

Day 6: Old Havana

Included meals: Breakfast & lunch.

Visit one of Havana's famous cigar factories
Enjoy a walking tour of Old Havana, including the Used Booksellers Market
Learn about Cuba's two currency system at a local ration store
Enjoy lunch at a local paladar
Take a ride in vintage cars to visit a mechanic's workshop
Tour the famous Christopher Columbus Cemetery

Full Day Itinerary: After breakfast this morning visit one of Havana's famous cigar factories where you will see hundreds of workers rolling Cuban cigars by hand. If the cigar factories are closed, a private cigar demonstration will be provided instead.

Then, enjoy a walk through Old Havana to learn about its historic, architectural and cultural significance. The area was declared a World Heritage Site in 1982 by UNESCO. Learn about the City Historian's massive efforts to restore Old Havana buildings, attract tourism and new investment, and improve social services for local residents.

At the Plaza de Armas, the oldest plaza in the city, enjoy some time on your own to explore the Used Booksellers Market, a cross-cultural treasure trove for readers of every genre. Meet local independent booksellers and engage in friendly conversation with Cuban readers about popular Cuban and American literature.

Visit a local ration store. Your Cuban host will explain the system of rationing and the two-currency system as well as the difference between Ration Stores, Cuban Peso Stores, and CUC Stores.

Enjoy lunch at local paladar. Then, take a ride in vintage cars to visit a workshop that converts these old cars into antique treasures.

Visit the famous Christopher Columbus Cemetery, a miniature city of mausoleums, crypts, family chapels, vaults, beautiful sculptures and ornate gravestones.

Dinner is on your own this evening. Your guide will be happy to recommend one of the many exceptionally good paladars in the area.

Day 7: Havana

Included meals: Breakfast, lunch & dinner.

Stop at Plaza de la Revolución
Tour Modern Havana
Enjoy lunch at a local paladar
Visit the Fine Arts Museum (Cuban collection)
Walk along Paula promenade and stop at the Artisans Market
Join your fellow travelers at a farewell dinner

Full Day Itinerary: After breakfast this morning, stop at the Plaza de la Revolución, the most famous and politically important square in Cuba and fine example of the modern movement of architecture in the 1950's. The square has witnessed many rallies and revolutions that have altered the course of Cuban history, where you'll view the 109-m tall tower and an 18-m statue of José Martí.

Continue on a panoramic tour of the urban area that lies west of Old Havana and shows the progression of the city over time: from a neighborhood along the city walls after its demolition, passing through the transitional Midtown (Centro Habana), to the extensive and more modern Vedado and Miramar neighborhoods.

Enjoy lunch at a local restaurant.

On the edge of Old Havana, experience the Cuban collection at the Fine Arts Museum. Here you can appreciate the evolution of the country's history through the work of its most famous artists.

Then, walk along the beautiful Paula Promenade by the waterfront to see the changes related to the program of transformation for the Bay of Havana. Stop at the Artisans Market, where you will find plenty of souvenirs, including handicrafts, posters and other collectibles.

After some well-deserved downtime at the hotel, join your fellow travelers at a farewell dinner, served in a privately owned restaurant. Be sure to wear your dancing shoes as you enjoy live, traditional Cuban music and salsa dancing, reminiscent of the Buena Vista Social Club.

Day 8: Havana/Miami

Included meals: Breakfast.

Transfer to the airport and board your flight back to Miami

Full Day Itinerary: Today, bid farewell to Cuba as you transfer to Havana's Jose Marti International Airport and check-in for your flight back to Miami. ¡Adiós, Cuba!
Note: Itinerary is subject to change based on local availability.
This itinerary provides a full time schedule of educational activities that will result in meaningful interactions between you and individuals in Cuba. U.S. law requires that all persons who participate in this program adhere to this full time schedule, and imposes on Friendly Planet the obligation to ensure such adherence.
Infrastructure in Cuba, including even the best hotels, may not always be up to U.S. standards. The hotels really do try to maintain quality accommodations, and in the properties we select for our tours, they generally do a good job. However, Cuba's resources and climate do sometimes impact a hotel's ability to keep up with maintenance and indoor air quality. For example, in Cuba's tropical climate, you might notice musty odors in some buildings, including hotels. We do our best to select the highest quality hotels, restaurants and paladars that Cuba has to offer, but we appreciate your flexibility and understanding when you encounter a minor imperfection. Cuba has a long way to go before its hotels, highways, public restrooms and other features reach U.S. levels, but all in all, you will not suffer any major difficulties in tolerating the small issues that may occur. If you have any medical or dietary concerns, however, please inform us when you make your reservation, so we can take whatever special precautions are required to assure your comfort and wellbeing.