Best of Sri Lanka
This package is currently closed.
To be the first to know when we have more departures available, subscribe to our Hot Deals mailing list.
Overview
Featuring
Travel off the beaten path: Colombo & Habarana, cultural Kandy, the tea plantations of Nuwara Eliya & a game drive in Yala National Park
Style
Small Group TourTravel with a small, intimate group of 15-24 likeminded travelers escorted by an English speaking guide and/or tour manager for some or all of your journey. More of these packages
20 travelers max, dedicated tour escorts & guides throughout
Departures
Scheduled Dates
Price Includes

Flights

Coach

Transfers

Hotel

Meals

Guides

Round-trip airfare from New York (JFK) on 5 star airlines, including fuel surcharge and taxes and fees
All ground transportation and transfers
Accommodations at first class and deluxe hotels with private bath
22 Meals: Buffet breakfast daily, 3 lunches, and 9 dinners
Traditional High Tea in Nuwara Eliya
Game drives in open vehicles in an elephant park and Yala National Park
Comprehensive guided touring program including all entrance fees to places visited
Experienced English-speaking tour director

Highlights

Sightseeing in Colombo
Safari with elephant viewing
Venture into the Cultural Triangle
Climb the towering rock outcrop of Sigiriya (Lion Rock)
Explore the ancient capital Polonnaruwa
Marvel at the Dambulla Cave Temple
Watch a cooking demonstration at Matale Spice Garden
Witness a Kandyan dance performance
See the Temple of the Tooth Relic
Visit a tea plantation in Nuwara Eliya
Enjoy 2 game drives at Yala National Park
View Galle Fort

Departs
New York Kennedy (JFK), Land Only (no flights); other gateways on request (flight schedule)
Themes
History & Culture, Nature & Wildlife
What to Expect
This fast-paced, escorted tour includes a reasonable amount of walking or hiking and requires an average level of physical fitness. This tour also includes long scenic drives between destinations and may have limited rest stops.
Prepare for your trip Already booked? Find everything you need to know before you go, including information about passport & visa requirements, flights, luggage, and more.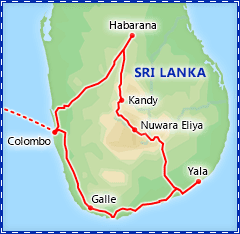 Incredible Sri Lanka is life magnified. On our 12 day escorted tour you'll come face to face with the fascinating sights, sounds, smells and tastes of this teardrop shaped isle, as Sri Lanka unapologetically wears its unique blend of centuries old culture and world-class sites right on its sleeve, and it's unlike any other destination on earth. You'll visit Colombo, the verdant capital from which all other experiences radiate, like spokes on a bike wheel. You'll marvel at the UNESCO World Heitage Site of Sigiriya, a towering rock outcrop upon which an ancient fortress is built. You'll explore Nuwara Eliya and the magnificent Ceylon Tea Plantations, and Yala National Park for a chance to spot wild elephants and maybe even the elusive leopard. These adventures are spiced with other quintessential Sri Lankan experiences including the Dambulla Cave Temples, a World Heritage Site considered the most important in Sri Lanka, the Ravana waterfalls, among the widest in the country, and a traditional spice garden where cinnamon, cardamom, nutmeg, and many other aromatic spices and plants are grown. Sri Lanka is an up-and-coming travel destination, voted #2 in Conde Nast Traveler's Top 16 places to go in 2016, which means Best of Sri Lanka is the perfect blend of off-the-beaten-path adventure and the comforts of small group travel. You'll be the envy of your friends as a travel trendsetter, and you'll enjoy value-for-money prices in true, Friendly Planet style!
Dates, Prices & Options
Departure Dates & Prices
Departures & Prices
2018 DEPARTURES
Depart / Return
Package Price
Departs: Mon, Feb. 26, 2018
Returns: Sat, Mar. 10, 2018

Feb 26 – Mar 10
$3499
Closed
Departs: Mon, Mar. 12, 2018
Returns: Sat, Mar. 24, 2018

Mar 12 – Mar 24
$3499
Closed
Departs: Mon, Mar. 26, 2018
Returns: Sat, Apr. 7, 2018

Mar 26 – Apr 7
$3499
Closed
Departs: Mon, Apr. 9, 2018
Returns: Sat, Apr. 21, 2018

Apr 9 – Apr 21
$3399
Closed
Want to stay longer? We may be able to arrange for you to stay later than the scheduled dates. Contact us about prices and availability. (details)
Options & Fees
Best of Sri Lanka
Rooming Selection
Double Occupancy
included
Single Occupancy
+$1249
Optional Early Check-in (at around 10am)1
Double Occupancy
+$75
Single Occupancy
+$150
Optional Later Check-out (after 6pm)2
Double Occupancy
+$75
Single Occupancy
+$150
1. Regular check-in time is at 2pm.
2. Check-out until 6pm is included in the tour cost
Transfers for Passengers Booking Land Only
Optional Airport Transfers
Arrival Transfer: Colombo airport to hotel1
+$28
Departure Transfer: Colombo hotel to airport2
+$28
1. Price is based on a minimum of 2 passengers.
2. Price is based on a minimum of 2 passengers.
Separately Paid Fees
Sri Lanka Visa Fee (paid separately)
+$35
Flights & Departure Cities
Departure Airports
New York Kennedy (JFK)1
included
Land Only (no flights)2
–$700
1. Other U.S. Gateways on Qatar: Atlanta (ATL), Boston, (BOS), Chicago (ORD), Dallas (DFW), Houston (IAH), Los Angeles (LAX), Miami (MIA), Philadelphia (PHL), and Washington D.C. (IAD). Other U.S. Gateways on Emirates: Boston (BOS), Chicago (ORD), Dallas-Fort Worth (DFW), Houston (IAH), Los Angeles (LAX), Orlando (MCO), San Francisco (SFO), Seattle (SEA), and Washington D.C. Dulles (IAD).
2. If selecting Land Only, arrival and departure transfers are not included. You may select private airport transfers for an additional fee, or make your own arrangements to join the tour in Colombo on Day 2 and to depart from Colombo on or after Day 12.
This package includes round-trip flights from the cities listed above, subject to availability. Please review the flight schedule, especially if you're booking connecting flights.
Coming from somewhere else? Ask us about availability and prices for flights from other cities (details). Additional charges for flights from other cities may be due within 24 hours of your reservation.
How to Make a Reservation
To make a reservation, simply select an available departure date and reserve online using our secure booking system. Or call one of our travel specialists at 800-555-5765. But first, check out our Things to Know section.
We only require a per-person deposit payment, which you can pay with your credit card or PayPal account. This deposit will be applied towards the cost of your package, and is generally non-refundable (details). The balance is due 75 days prior to departure (or within 72 hours, if you're booking less than 75 days prior to departure), and can be paid by credit card, PayPal, check or money order.
Itinerary
Day 1: Depart USA

Your exotic journey to Sri Lanka begins this evening as you depart from the USA.
Some flights may depart before midnight, check-in will be the day before departure date listed

Day 2: Colombo

Accommodations: 2 nights Cinnamon Grand Colombo. Included meals: Dinner.

Upon arrival in Colombo, following customs and immigration formalities, meet our representative and transfer to your hotel
The remainder of the day is at leisure

Full Day Itinerary: Welcome to Colombo, Sri Lanka's largest city. The original traders and settlers - the Arabs, Portuguese, Dutch, and British – have left in their wake churches and monuments, names and religions, costumes and food and smatterings of their languages which have been absorbed into the speech of the Sri Lankan. Today, Colombo is a fascinating city – a happy blend of east and west, past and present, with a charm of its own. Other places of interest are the beautiful Buddhist temples, Hindu temples, mosques, the historic Wolfendhal church, and residential areas. Colombo is home to the Ceramic Corporation famous for its well-known brand "Noritake" and ODEL a renowned shopping center.

Day 3: Colombo

Included meals: Breakfast & dinner.

Sightseeing tour of Colombo
Join your fellow travelers for a Welcome Dinner with wine

Full Day Itinerary: After a buffet breakfast at the hotel, explore Colombo on today's city tour, including Gangaramaya Temple, Independence Square, Galle Face Green, and Pettah Bazaar.

The Galle Face is a five hectare ocean-side urban park, which stretches for a half kilometer along the coast, in the heart of the financial and business district. The promenade was initially laid out in 1859 and has been used for horse racing, as well as golf, cricket, polo, soccer (football), tennis and rugby.

The Pettah neighborhood is famous for its market, a series of open air bazaars and markets, and is Sri Lanka's busiest commercial area. Pettah is derived from the Tamil word, Pettai, an Anglo-Indian word used to indicate a suburb outside a fort. Today, the Sinhalese phrase, pita-kotuwa (outside the fort) conveniently describes the same place.

Return to your hotel for a welcome dinner and an evening at leisure.

Day 4: Colombo & Habarana

Accommodations: 2 nights Cinnamon Lodge Habarana. Included meals: Breakfast & dinner.

Visit a local cashew nut producing village
Search for elephants in a national park

Full Day Itinerary: After breakfast, depart for Habarana. Along the road, you will see thatched stalls and villagers selling local produce and area specialties. Roasted and boiled kaju (cashew nuts) are an irresistible snack. The villages are small clusters of home enterprises specialized in processing and selling kaju since the early 1900s. Some of the villagers in the stalls are third-generation kaju sellers.

The island's kaju rank among the world's most delicious. The name "cashew" is derived from the Portuguese "caju," which in turn comes from its original South American Indian Tupi name, "acaju."

This afternoon, venture into the heart of the Cultural Triangle. Take part in a game drive in open vehicles at either Minneriya, Eco or Kaudulla National Parks, which are among the best to see elephants on the island, with large herds of elephants migrating between each park during different seasons. The parks consist of a mixed forest of evergreen shrubs, a favorite habitat for animals, including deer, a variety of birds and other mammals, as well as wild elephants.

Day 5: Sigiriya, Polonnaruwa & Habarana

Included meals: Breakfast, lunch & dinner.

View the towering rock outcrop of Sigiriya (Lion Rock), a UNESCO World Heritage Site
Visit Polonnaruwa, the 2nd capital of Sri Lanka, UNESCO World Heritage Site

Full Day Itinerary: After an early breakfast, set out for Sigiriya. Sigiriya Rock Fortress was built by King Kassapa, who reigned between AD 477 and AD 495. The "lion rock" is a citadel of unusual beauty rising 200 meters from the scrub jungle. The rock was the innermost stronghold of the 70 hectare fortified town. The base of the rock is surrounded by a moat, ramparts, and extensive water gardens. The world-renowned frescoes of the "heavenly maidens" of Sigiriya which are in a sheltered pocket of the rock approached by a spiral stairway is one of the main attractions. The frescoes are painted in earth pigments on plaster.

Continue to Polonnaruwa, the 2nd capital of Sri Lanka, and built in the 11th and 12th centuries AD. Visit the museum and the extensive archaeological site. Here, you will find the ruins of the Royal Palace and the Gal Viharaya, 3 splendid statues of the Buddha in upright, sedentary and recumbent postures carved out of rock. There are also ruins of famous places of worship such as the Shiva temple.

Return to Habarana for dinner at your hotel.

Day 6: Habarana, Dambulla & Kandy

Accommodations: 1 night Cinnamon Citadel, Kandy. Included meals: Breakfast, lunch & dinner.

Explore the Dambulla Cave Temples, a UNESCO World Heritage site
Enjoy a cooking demonstration and lunch at Matale Spice Garden
Witness an evening cultural show

Full Day Itinerary: Enjoy breakfast at your hotel before departing for Kandy. Enroute, visit the Dambulla Cave Temples, built by King Walagambahu in the 1st century BC. Dambulla is the most impressive of Sri Lanka's cave temples, consisting of a complex of five caves with over 2000 square meters of painted walls and ceilings and is the largest area of paintings found in the world. The caves contain over 150 images of the Buddha of which the largest is the colossal figure of the Buddha carved out of rock and spanning 14 meters.

Sri Lanka is one of the world's largest producers of cinnamon and other spices, which lured ancient traders to the island. At the Matale Spice Gardens, an expert guide will talk about the cultivation of cinnamon, cardamom, nutmeg and many other aromatic plants and spices. You will also have a chance to see how some medicinal herbs are transformed into powders and tablets. Watch an experienced tree climber run up a palm to harvest coconuts, and see ropes made from coconut bark.

Before lunch, you will have the chance to see how food is prepared with traditional implements and fresh herbs and spices.

Later continue to Kandy, the last capital of the Sri Lankan kings, where many of the legends, traditions and folklore are still lovingly kept alive. Drive around the Kandy Lake built by the last Sinhala king, King Sri Wickrama Rajasinghe in 1806.

Sri Lanka's natural sapphire and other precious and semi-precious stones are world famous. Visit a gem museum and lapidary, where you will learn about the ancient mining techniques, and also see the jewelers at work. This evening, you will witness a traditional Kandyan cultural dance show, and perhaps witness some dancers walking on hot coals and fire!

Day 7: Kandy & Nuwara Eliya

Accommodations: 2 nights The Grand Hotel, Nuwara Eliya. Included meals: Breakfast, lunch box & dinner.

Visit Sri Dalada Maligawa (Temple of the Sacred Tooth Relic), a UNESCO World Heritage Site
Board your train for Nuwara Eliya

Full Day Itinerary: After breakfast, set off for Sri Dalada Maligawa, or the Temple of the Sacred Tooth Relic, a Buddhist temple in the city of Kandy. It is located in the royal palace complex of the former Kingdom of Kandy, which houses the relic. Here you will have an opportunity to interact with monks as they go about their daily life.
Afterwards, drive to Peradeniya Station to board your scenic train journey to the cool tea growing highlands and the town of Nuwara Eliya. Upon arrival, continue to your hotel for dinner and overnight.

Day 8: Nuwara Eliya

Included meals: Breakfast.

Visit a tea plantation and factory and have a tasting of pure Ceylon tea
Explore the Hakgala Botanical Gardens
Enjoy traditional High Tea at your hotel

Full Day Itinerary: After breakfast, visit a tea plantation and factory where one of the best tea in the world is produced. You will be told all about the process of manufacturing tea and also see how tea is graded. Enjoy a tasting of pure Ceylon tea in the factory, and a chance to buy some to bring home with you.

Drive to Hakgala Botanical Gardens, where you will see a large variety of indigenous plants, as well as species from other parts of the world, from the back of a golf-cart. Then, you will have the opportunity to walk around the gardens on your own.

Later this afternoon, enjoy a traditional High Tea at your hotel, with a tower of sandwiches and sweets accompanied by some famous Ceylon tea.

Day 9: Nuwara Eliya & Yala

Accommodations: 2 nights Cinnamon Wild Yala. Included meals: Breakfast & dinner.

View the Ravana waterfalls
Visit a pirivena, a monastic college for Buddhist monks

Full Day Itinerary: After breakfast, depart for Yala. Along the way stop to view the Ravana Falls (popularly known as Ravana Ella), a popular sightseeing attraction and is considered one of the widest falls in the country. The waterfall, measuring approximately 82 ft. in height, cascades from an oval-shaped, concave, rock outcrop. During the local wet season, the waterfall is said to resemble an areca flower with withering petals. The falls were named after the legendary King Ravana, who is connected to the famous Indian epic, the Ramayana. According to legend, it is said that Ravana (the king of Sri Lanka at the time) had kidnaped Princess Sita, and had hidden her in the caves behind the waterfall, now known as the Ravana Ella Cave.

En route to Yala, stop at a pirivena, a monastic college for the education of Buddhist priests in Sri Lanka. In ancient times, piriven were also the centers of higher education for lay people. Prior to their Ordination, young priests undergo training here. Her you will observe the novice monks learning, and have an opportunity to interact with them.

Day 10: Yala

Included meals: Breakfast & dinner.

Enjoy a morning and afternoon game drive in open vehicles at Yala National Park

Full Day Itinerary: Yala, located in the southeastern corner of the island, has a varied terrain with flat plains alternating with rocky outcrops. The vegetation ranges from open parkland to dense jungle. Yala is the largest national park in Sri Lanka and is home to wild elephants, boar, and buffalo, as well as the elusive leopard, bear, deer, and crocodiles. Visitors can also see large flocks of migratory and indigenous birds. Help your driver and naturalist spot the game! Wake up early, and after some coffee and tea, depart on your first game drive returning in time for breakfast. Then, relax until it's time to depart on your afternoon game drive!

Day 11: Yala, Galle & Colombo

Accommodations: 1 night Cinnamon Grand Colombo. Included meals: Breakfast & dinner.

Stop at a curd (yogurt) shop in Weerawila
View the Dutch Fort at Galle, a UNESCO World Heritage Site
Visit a traditional mask factory (time permitting)
Enjoy a farewell dinner with your fellow travelers

Full Day Itinerary: This morning, return to Colombo. Along the way, stop in Weerawila to visit a curg (yogurt) shop and taste fresh buffalo milk curd, a local delicacy, often served with treacle or honey. Continue to Galle and view Galle Fort. Located in the Bay of Galle on the southwest coast of Sri Lanka, the fort was built first in 1588 by the Portuguese, then extensively fortified by the Dutch during the 17th century from 1649 onwards. Walk along the ramparts and the streets of this very pretty colonial town.

Later, visit a traditional mask factory. Mask carving is a tradition in the southern coastal regions of Sri Lanka. These colorful masks are used for festival dances, each depicting a character from various folklores. They can be highly prized collectables.

Arrive in Colombo, for your last night in Sri Lanka, and enjoy a farewell dinner with your fellow travelers.

Day 12: Colombo/USA

Included meals: Breakfast.

Check-out from your hotel by 6:00 PM and transfer to the airport for your return flight to the USA
Some flights will depart in the morning, arriving in the USA today
Some flights will depart later this afternoon and will arrive to the USA tomorrow

Day 13: Arrive USA

Your journey ends as you arrive today in the USA
Some flights may return one day early on Day 12