Romantic & Relaxing Thailand
This package is currently unavailable.
Overview
Style

Independent Package

These un-escorted packages have no set schedule or guides, so you have the freedom and flexibility to explore on your own from your centrally-located hotel. More of these packages


Freedom to explore at your own pace; unescorted

Departures
Choose your own dates
Themes
History & Culture
What to Expect
This leisurely-paced, independent tour requires an average level of physical fitness. This tour includes a number of optional excursions to fit your specific travel interests.
Already booked?
Find everything you need to know before you go, including information about passport & visa requirements, flights, luggage, and more.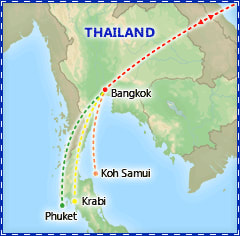 Expertly crafted to pair the buzz of Bangkok with the serene sands of the Thai islands, our Romantic and Relaxing Thailand package offers lovebirds the best of both worlds! Stay 4 nights in Bangkok, including tours of the Grand Palace and the Temple of the Emerald Buddha. Catch the sunset with a drink at the Sky Bar. Take in a classic Thai Dance show. Plus, enjoy plenty of free time to wander together exploring the Land of Smiles.
Then fly to your choice of Thai Island Resort: Phuket, Krabi or Koh Samui. Depending on where you land, you could See 'James Bond' Island, then swim and sunbathe at a secluded beach. Or set sail for Phi Phi Island and cruise the tropical waters of southern Thailand. Or, board an elegant wooden yacht to explore the tropical paradise of Ang Thong National Park. Of course, you could also just spend your days lazing by the pool or soaking in the sun on a world-class beach.
Indulge in romantic dinners throughout and stay each night at deluxe accommodations, hand-selected by our team for their impeccable service and romantic ambiance. Whether on your honeymoon or a romantic couples tryst, this package is the perfect marriage of cultural immersion and luxurious relaxation.
Customized just for you! The departure dates and prices table below gives approximate prices based on example dates and accommodation levels. When you call to book, let our Reservation Agent know your preferred travel dates, which level of hotel accommodations you want (Silver, Gold, or Platinum), and which Thai Island Resort you'd like to visit, and we'll prepare a custom quote just for you.
Itinerary
These are sample itineraries and suggestions and hotel options that can be customized to create your own dream trip to Thailand.
Day 1: Depart USA

Your journey begins as you check in for your flight to Thailand, via Taipei

Day 2: En route

Cross the International Dateline and lose a day (which you will recover on the return leg of your trip)

Day 3: Arrive Bangkok

Accommodations: 4 nights COMO Metropolitan (Silver), The Peninsula (Gold) or Mandarin Oriental (Platinum). Included meals: Dinner.

Upon arrival in Bangkok, and after customs formalities, you will be met and greeted by a local representative for your transfer to your hotel.
Revel in a relaxing day at leisure
This evening, enjoy dinner at Sra Bua by Kiin Kiin

Full Day Itinerary: Upon arrival in Bangkok, and after customs formalities, you will be met and greeted by a local representative for your transfer to your hotel. Enjoy your day at leisure.

This evening, get ready for a delicious dinner at Sra Bua by Kiin Kiin who offers a modern interpretation of Thai cuisine. Behind beautifully composed food presentation, familiar flavors of traditional dishes are maintained while the chefs push the boundaries of form, texture, and temperature.

Day 4: Bangkok

Included meals: Breakfast & dinner.

Enjoy your morning at leisure
Tour the Grand Palace and the Temple of the Emerald Buddha
Watch the sunset with a drink at the Sky Bar rooftop at Lebua
Sala Rim Naam Restaurant & Classic Thai Dance Show

Full Day Itinerary: After breakfast at the hotel, enjoy your morning at leisure.

Temples, along with the monarchy, are the fabric that binds together the national identity that is Thailand, and many of these are found in Bangkok. This afternoon visit the Royal Grand Palace, Bangkok's number one 'must-see' attraction as well as Thailand's most important landmark. Your local guide will take you on an in-depth journey through Thailand's history and royal heritage. Discover the grandeur and majesty of the buildings, throne halls and monuments. Marvel at the mysterious Emerald Buddha made from a solid piece of green jadite (jasper), the most revered Buddha image in Thailand, resided in Wat Phra Kaew. Afterwards, enjoy a drink at the Lebua Sky Bar just in time for sunset. The Sky Bar offers amazing views of the Bangkok skyline.

Later, cross the river to Sala Rim Naam Restaurant, one of Bangkok's most prestigious dining venues, located on the banks of the Chao Phraya River. The Sala Rim Naam Restaurant is housed in a richly decorated Thai-style pavilion, and offers an incredibly unique dining and cultural experience, including a Thai classical dance show performed every evening.

Day 5: Bangkok

Included meals: Breakfast.

Enjoy a day at leisure or take part in one of our optional excursions

Optional Excursion: Cooking Class at Blue Elephant, or similar, $175 pp. Bring an appetite for this culinary adventure! Meet with a chef from Blue Elephant Cooking School, one of the country's most reputable traditional Thai cooking institutes. Visit one of the capital's many morning markets for an introduction to Thai food culture. Browse the stalls, learning about the various ingredients for sale, watching the scenes of local life and selecting fresh items to be used in the cooking class. (NOTE: Market visit not available for afternoon course)
Return to Blue Elephant where the chef will demonstrate preparation methods, giving detailed commentary about the process. Then have a chance for hands-on experience! After the meal is prepared, sit down and enjoy the delicate flavors of authentic, Thai cuisine.

Optional Excursion: Bicycle and boat tour from bustling Chinatown to rural Bangkok, $230 pp. Discover the different faces of Bangkok through a 5 hour bicycle and boat tour. From the exploration of bustling Chinatown to the quiet, forgotten and green plantations of rural Bangkok. In between, learn why this city is often referred to as "Venice of the East" as you pass through charming canals, viewing classical wooden-framed homes on stilts, and scenes of daily life. Along your tour, enjoy a tasty Thai-style meal.

Day 6: Bangkok

Included meals: Breakfast.

Day at leisure or take part in one of our optional excursions

Optional Excursion: Explore the ruins of Ayutthaya, Thailand's ancient capital, $150 pp. Early this morning travel to the ancient city of Ayutthaya, a UNESCO World Heritage Site. King U-Thong founded the city in 1350 as the capital of his kingdom of Siam. By 1700, Ayutthaya had as many as a million inhabitants, making it one of the largest cities in the world at the time. But in 1767, the city was invaded and destroyed by the Burmese army. Magnificent ruins of the old city still remain, some having been restored. Exciting archaeological excavations are still proceeding at many sites in the area.

After a delicious Thai dish for lunch, take a leisurely long-tail boat ride down the Chao Phraya River. Arrive at Wat Niwet Thammaprawat to view the Gothic-style architecture and stained glass windows of this distinctive Buddhist temple. Take the cable car across the river for aerial views of the waterway then continue to Bang Pa-In Summer Palace. The Palace offers an opportunity to learn more about the Kingdom's history and culture, with an impressive collection of gardens and majestic mansions.

Optional Excursion: Refresh your body and mind at the Oasis Spa, $90 pp. Refresh your body and relax your tired muscles from a long journey by a selective Spa Treatment at one of the most deluxe day spas, the Oasis Spa, located in the heart of Bangkok.

Optional Excursion: Damnoen Saduak Floating Market, $100 pp. This morning, visit the famous Damnoen Dauak Floating Market in Ratchaburi Province. Take a boat ride along the canal to experience the colorful floating marketplace, bustling with boats and vendors selling tropical fruits and other delights.
Phuket, days 7-10
Day 7: Depart Bangkok/Arrive Phuket

Accommodations: 3 nights Pullman Phuket Arcadia Naithon Beach (Silver), The Surin Phuket (Gold) or Banyan Tree Phuket (Platinum). Included meals: Breakfast & dinner.

Transfer to the airport to depart Bangkok
Upon arrival in Phuket, meet our representative and transfer to your hotel
The remainder of the day is at leisure
This evening, enjoy dinner at your hotel

Day 8: Phuket

Included meals: Breakfast & lunch.

This morning, board a private long tail boat for a full day boat trip to Phang Nga Bay
See 'James Bond' Island, then swim and sunbathe at a secluded beach
Visit a privately-owned island for a lunch barbeque

Full Day Itinerary: After breakfast at your hotel, board a private long tail boat and cast off for a full day boat trip to the turquoise waters of Phang Nga Bay.

Pass by the well-known 'James Bond' Island. Continue on to discover dramatic limestone karsts jutting out of the water and a pristine mangrove forest. Relax and enjoy the breath-taking views as the boat glides across the Bay. The boat captain will seek out a secluded beach for a chance to swim in the clear waters or sunbathe on the white sandy shores.

The day continues with a visit to a privately-owned island. Go ashore at this tropical paradise and explore the tranquil beaches. A barbeque will be prepared for lunch in this incredible setting.

Spend the rest of the day swimming and relaxing in the sun. Return to Phuket by boat as the sun begins to set.

Day 9: Phuket

Included meals: Breakfast.

Day at leisure or take part in one of our optional tours

Optional Excursion: Unseen Snorkeling off Koh Yao Island, $320 pp. Enjoy a full day snorkeling trip to Phang Nga Bay. Climb aboard a long-tail motorboat and cast off onto the emerald green seas of the Andaman coast. The boat will cross the Bay to Koh Yao Yai and Koh Yao Noi, two islands divided by a wide channel. Grab a mask and hop overboard to swim and snorkel in the calm waters. Enjoy the underwater wonderland, teeming with tropical fish.

Back on board, cruise onwards to Koh Hong Krabi for another chance to swim in the warm waters of Phang Nga Bay. Stop at midday for a picnic lunch on the open seas, enjoying a tasty meal while surrounded by beautiful water scenery.

Return to Phuket early this evening, feeling fresh and rejuvenated from the day at sea.

Optional Excursion: Electric bike tour of Phuket's Old Town, $125 pp. Explore the old town of Phuket on this electric bike tour. These battery-powered bicycles are the perfect way to cruise around the city's streets and small laneways.

Learn about the island's past while exploring different architectural styles. See former Chinese schools that are repurposed into museums and restaurants as well as Chinese shrines. Pedal to Sino-Portuguese buildings that stand in testimony to the influence of the migrants who came to Phuket during the tin mining days of the 19th century. See the home of the island's former governor, a majestic building that echoes of its glorious past.

Take a closer look at the past with a visit to Thavorn Museum. Located in the hotel of the same name, this museum boasts an impressive collection of old calculators, typewriters, tin toys and more. Seeing these relics gives a better sense of what life was like on Phuket in earlier times.

The electric-bike exploration culminates with a visit to a downtown fruit market. Explore the array of exotic tropical fruits on sale and sample some of the fresh seasonal items before transferring back to the hotel.

Day 10: Depart Phuket/Arrive USA

Included meals: Breakfast.

After breakfast at the resort, transfer to the airport for your short flight to Bangkok
Board your return flight to the USA via Taipei, arriving in the USA later on today
Krabi, days 7-10
Day 7: Depart Bangkok/Arrive Krabi

Accommodations: 3 nights Nakamanda Resort & Spa (Silver), The Tubkaak Krabi Boutique Resort (Gold) or Rayavadee Resort (Platinum). Included meals: Breakfast & dinner.

Transfer to the airport to depart Bangkok
Upon arrival in Krabi, meet our representative and transfer to your hotel
The remainder of the day is at leisure
This evening, enjoy dinner at your hotel

Day 8: Krabi

Included meals: Breakfast & lunch.

This morning, travel by speedboat for the unforgettable Phi Phi Islands
Visit Bamboo Island and snorkel at Hin Klang
Lunch at Phi Phi Don

Full Day Itinerary: After breakfast at your hotel, set sail for an unforgettable tour of the Phi Phi Islands. Travel by speedboat across the Andaman Sea, leaving the mainland behind and cruising into the tropical waters of southern Thailand.

Visit Bamboo Island, one of Phi Phi's six islands, surrounded by spectacular white, sandy beaches and bamboo trees. Relax on the shores or go for a swim in one of its peaceful bays.

Continue to Hin Klang for a snorkeling adventure. Grab a mask and plunge into the clear waters. Hin Klang is famous for its vibrant marine life, including coral reefs and dozens of tropical fish. After a good view around the underwater world of Hin Klang, return to the boat and cruise onwards to Phi Phi Don Island for lunch.

Phi Phi Don is a unique H-shaped island, with two lush mountains linked by a flat beach. Time permitting, climb to a viewpoint to see this beautiful island from above. Then continue the exploration of Phi Phi with a visit to Monkey Beach and Phi Phi Leh Lagoon. Visit the mysterious Viking Cave and, finally, Maya Bay which was made famous in the Hollywood film 'The Beach'. Despite its popularity, Maya Bay is certainly one of Thailand's most beautiful sites.

After this incredible Phi Phi Islands tour, return by boat to Krabi.

Day 9: Krabi

Included meals: Breakfast.

Day at leisure or take part in one of our optional tours

Optional Excursion: The Emerald Pool and Jungle Spa Experience, $270 pp. Explore lush forests and inland attractions during this day trip around Krabi.

Travel to Khao Nor Juji, one of Thailand's last remaining rainforests that is teeming with birds and other wildlife. Take a 45-minute walk through the forest, enjoying the fresh air and sounds of birds chirping in the distance. The walk leads to Sra Morakot, a spectacular crystal-clear lagoon. Go for a swim in the refreshing lagoon and cool off after the morning's trek.

Continue through the jungle to a collection of natural Jacuzzis. Hidden by thick tropical plants, the Jacuzzis offer privacy and tranquility. The waters here are believed to be healing. Then receive a head and shoulder massage at a nearby jungle pavilion for a deeper sense of relaxation. Afterwards snack on seasonal fruits and sip herbal teas.
Dry off and continue to a nearby restaurant to sample delicious Thai cuisine at this popular local spot. En route to your hotel, stop at Tiger Cave Temple, one of Krabi's iconic sites. Learn about the history of the temple and how it is used as a meditation centre. If desired, climb 1,266 stairs to a spectacular viewpoint.

Return to the hotel late this afternoon, feeling relaxed and rejuvenated from this interactive Krabi day trip.

Optional Excursion: Discover the Flora and Fauna of Krabi during the Unseen Natural Trail hike, $205 pp. Travel away from the beaches to Hang Nak hill for a challenging but rewarding hike in Krabi to one of area's lesser-known mountains. The 3.7-kilometre path meanders through lush tropical mountain landscapes. See an incredible array of flora and keep an eye out for some of the jungle's inhabitants such as lizards, gibbons, butterflies and more. There are some steep stretches of the trail but there are three scenic viewpoints along the way which make for perfect places to rest.

Arrive at the summit and enjoy breathtaking views of your surroundings. Relax while overlooking Krabi's coast and glimmering blue sea.

After soaking up the views, it is time to trek down to the base. Following the same trail, return to the bottom of Hang Nak Hill and transfer back to your hotel.

Day 10: Depart Krabi/Arrive USA

Included meals: Breakfast.

After breakfast at the resort, transfer to the airport for your short flight to Bangkok
Board your return flight to the USA via Taipei, arriving in the USA later on today
Koh Samui, days 7-10
Day 7: Depart Bangkok/Arrive Koh Samui

Accommodations: Anantara Bophut (Silver), InterContinental Samui Resort (Gold) or Four Seasons Resort (Platinum). Included meals: Breakfast & dinner.

Transfer to the airport to depart Bangkok
Upon arrival in Phuket, meet our representative and transfer to your hotel
The remainder of the day is at leisure
This evening, enjoy dinner at your hotel

Day 8: Koh Samui

Included meals: Breakfast & lunch.

This morning, board an elegant wooden yacht to the tropical paradise of Ang Thong National Park
Swim and snorkel in the clear waters, viewing colorful fish and vibrant coral
Climb a winding staircase to view the stunning Emerald Lake on Koh Mae Island

Full Day Itinerary: This morning, board an elegant wooden yacht to explore the tropical paradise of Ang Thong National Park. Cruise across the open sea for Ang Thong where the ship will weave around the 42 islands of the National Park, stopping to explore the pristine landscapes. Swim and snorkel in the clear waters of the Gulf of Thailand and see an abundance of colorful tropical fish and vibrant coral. After exploring the underwater wonders, discover some of the islands to see their remarkable landscapes. Take short treks through the unspoiled forests for fabulous views of the park's limestone mountains and beaches. Keep an eye out for exotic wildlife such as monkeys, sea eagles, otters and other unique species.

Visit the highlight of Emerald Lake on Koh Mae island. Climb up a winding staircase for views of this stunning green saltwater lake. Continue exploring the island and its stunning beach before returning to the boat.

Cruise back to Samui in the early evening, watching the sun dip low into the sky.

Day 9: Koh Samui

Included meals: Breakfast.

Day at leisure or take part in one of our optional tours

Optional Excursion: Koh Tao & Koh Nangyuan Snorkeling by Speedboat, $130 pp. Spend a day in paradise during this day trip from Koh Samui. Depart Koh Samui by speedboat, crossing the clear waters of the Gulf of Thailand on the way to Koh Tao. Enjoy breathtaking views as the boat cruises from island to island.

Arrive at Muang Bay, a spectacular crescent-shaped bay. Grab a snorkel and mask and jump overboard into the warm waters. Snorkel among schools of tropical fish, admiring the vibrant colors of the exotic fish.
Cruise around the island to another scenic location for lunch.

This afternoon travel out to another picture-perfect island, Koh Nang Yuan. Nang Yuan consists of three small islands linked by a sandbar and surrounded by turquoise waters. Spend the afternoon relaxing on the white sands, snorkeling or taking a short trek to an elevated viewpoint.

Feeling fully relaxed after this day in paradise, climb aboard the speedboat and return to Koh Samui.

Optional Excursion: Exploration of Koh Samui's Local Culture, $125 pp. Spend a half day stepping away from the beaches to explore Koh Samui's tropical paradise. Start with a visit to the island's famous landmarks including the Big Buddha and Grandmother and Grandfather Rocks. Then drive up to Chaweng viewpoint for fabulous views over the coastline and the sea.

Continue into the island's center, visiting a fresh market. Meet with locals who have come to do their daily shopping and learn about the different items for sale. Continue with a walk through a nearby fishing village, getting a chance to observe the daily lives and activities of the fishermen.

Next up is a tour of the Magic Alambic Rum Distillery. See how the island's famous rum is made and take a sample of the smooth brew. Visit a coconut plantation and see how these abundant fruits are grown, collected and processed for eating and drinking.

Cap off the day with a cool drink at one of the island's many cafes.

Day 10: Depart Koh Samui/Arrive USA

Included meals: Breakfast.

After breakfast at the resort, transfer to the airport for your short flight to Bangkok
Board your return flight to the USA via Taipei, arriving in the USA later on today
Hotels
Silver
Gold
Platinum