Enchanting Ecuador
This package is currently unavailable.
To be the first to know when we have more departures available, subscribe to our Hot Deals mailing list.
Overview
Featuring
Picturesque Quito & the Amazon, Papallacta hot springs; then Ibarra & the Liberty Train to Salinas, El Angel Ecological Reserve & Otavalo market
Style
Small Group TourTravel with a small, intimate group of 15-24 likeminded travelers escorted by an English speaking guide and/or tour manager for some or all of your journey. More of these packages
24 travelers max, dedicated tour escorts & guides throughout
Departures
Scheduled Dates
Price Includes

Flights

Train

Coach

Transfers

Hotel

Meals

Guides

Round trip flights from Miami to Quito via LATAM Airlines including fuel surcharges and taxes and fees
All ground transportation and transfers
Accommodations in Superior and Deluxe hotels with private bath
15 Meals: breakfast daily, 1 lunch, 6 dinners
Comprehensive guided sightseeing tours including entrance fees
Tren de la Libertad (Liberty Train): Ibarra to Salinas
Professional English-speaking tour directors and guides

Highlights

See Quito's most important landmarks and the Equatorial Monument
Explore the Amazon Rainforest with a naturalist guide
Relax in the natural hot springs of Papallacta
Enjoy a panoramic train ride on the Tren de la Libertad
Discover Afro-Ecuadorian culture in Salinas
Shop at the famous Otavalo Market

Departs
Miami (MIA) (flight schedule)
Themes
Active, History & Culture, Nature & Wildlife, Rail Journeys
What to Expect
This fast-paced, escorted tour involves a significant amount of walking or hiking, often on uneven terrain, and reaches high altitudes requiring a high level of physical fitness to fully enjoy the trip. This tour also includes long scenic drives between destinations and may have limited rest stops.
Prepare for your trip Already booked? Find everything you need to know before you go, including information about passport & visa requirements, flights, luggage, and more.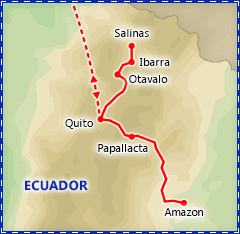 For its size, Ecuador thrills its visitors with an amazing variety of experiences. Imagine yourself exploring the picturesque plazas and colonial buildings of Quito's Old Town; floating down the Amazon on a hand-made canoe through lush rainforest; meandering through colorful local markets and villages; spotting exotic wildlife and meeting the local Quechua people; traveling via the Liberty Train to visit a remote Afro-Ecuadorian community; then looking for Andean condors in El Angel Ecological Reserve. All this and more awaits you on our Enchanting Ecuador small group escorted tour. Typical Ecuador tours may cover one or two aspects of this eclectic country, but not many will offer such culturally-rich and encompassing access. It truly is a unique way to experience this South American gem.
Itinerary
Notice:
Effective February 2018, Ecuador's Ministry of Foreign Affairs have approved a new law requiring all travelers entering Ecuador to present proof of medical and emergency travel insurance. Visitors who do not have a medical and emergency travel insurance coverage during their stay in Ecuador may be denied entry.
Day 1: Depart USA/Arrive Quito

Accommodations: 2 nights NH Collection Quito Royal, Quito.

Depart the USA on your flight bound for Quito, Ecuador (9,500 feet above sea level)
Upon arrival, transfer to your hotel

Day 2: Quito

Included meals: Breakfast & dinner.

Panoramic city tour of Quito
Visit the Equatorial Monument
Welcome dinner at a local restaurant

Full Day Itinerary: Today, enjoy a panoramic tour of Quito, arguably one of the loveliest South American cities. Visit the Government Palace and the Monastery of San Francisco, Quito's oldest church and largest colonial building constructed in Latin America. Later, stop at the Equatorial Monument, the Mitad del Mundo ("Middle of the World"), commemorating the exact place where Charles Marie de la Condamine established the Equator, where you can stand with one foot in the northern and one in the southern hemisphere.

This evening, join your fellow travelers for a welcome dinner at a local restaurant.

Day 3: Quito & Ecuadorian Amazon

Accommodations: 2 nights Casa del Suizo, Punta Ahuano. Included meals: Breakfast & dinner.

Drive to the Ecuadorian Amazon
Stop en route at Guango Lodge, a hummingbird paradise
Continue to Punta Ahuano for a canoe ride on the Napo River to the lodge
Welcome cocktail and dinner

Full Day Itinerary: The Amazonian segment of your tour begins after breakfast today as you set out along a scenic stretch of road overlooking lush green valleys. En route, you'll visit the Guango Lodge, a hummingbird paradise where it is not uncommon to see 10 different species within an hour. You'll also make a stop at an indigenous market in Archidona.

Arrive this afternoon at Punta Ahuano, a tiny port town on the north bank of the Napo River, where piraguas (canoes) await you for a short ride downstream to your lodge. After check-in, sip a refreshing welcome cocktail.

Day 4: Ecuadorian Amazon

Included meals: Breakfast, lunch & dinner.

Enjoy a full day of activities at the Amazon lodge

Full Day Itinerary: Enjoy a full day exploring the wonders of the Napo River Amazon region. After a short walk through the jungle, your guide will present you with the itinerary for the day. Some of the activities available include a visit to a Quechua family, nature hikes and river rafting or tubing along the Napo River. The activities for the day will be determined at the discretion of the tour guide to best fit your group's abilities and interests. Time permitting, other independent activities may be available at additional cost.

Day 5: Ecuadorian Amazon & Papallacta Hot Springs

Accommodations: 1 night Termas de Papallacta. Included meals: Breakfast & dinner.

Return to Punta Ahuano by canoe and continue to Papallacta
Enjoy a relaxing bath in the thermal hot springs

Full Day Itinerary: After breakfast, set out on canoes again to return to Punta Ahuano. Continue by coach along the scenic Andes Mountain range to Papallacta, a small town tucked away in a high Andean valley (11,000 feet above sea level). Enjoy a relaxing stay at a spa-resort, located around thermal hot springs.

Day 6: Tren de la Libertad (Liberty Train): Ibarra to Salinas

Accommodations: 2 nights Hacienda Piman, Ibarra. Included meals: Breakfast & dinner.

Travel to Ibarra to board the Liberty Train
Enjoy the train ride to Salinas
In Salinas discover Afro-Ecuadorian culture
Return to Ibarra for dinner and overnight

Full Day Itinerary: Set out early this morning toward Ibarra, the "White City" to board the Tren de la Libertad (Liberty Train), which will take you through seven tunnels dug with pick and shovel and over tall bridges across steep canyons, on a unique journey to Salinas, where you will be received to the tune of la "bomba". In Salinas you'll discover colorful murals commemorating the history and culture of Afro-Ecuadorian people. Visit its museums and shops and enjoy the local cuisine in a trip full of memorable experiences. Return to Ibarra for dinner and overnight.

Day 7: Ibarra & El Angel Ecological Reserve

Included meals: Breakfast & dinner.

Panoramic tour of Ibarra, the "White City"
Visit El Angel Ecological Reserve
Return to Ibarra for dinner and overnight

Full Day Itinerary: At 7,000 ft above sea level, Ibarra is a clean, freshly painted colonial city, capital of the province, is also known as the "White City". It has a population of approximately 110,000 and enjoys one of the best climates of the Sierra. Today visit El Angel Ecological Reserve. Located in the canton of Espejo, the reserve is home to a variety of plant and animal species. Forests of Frailejones, a type of thick stalk sunflower, make some areas appear as an alien landscape. Be on the lookout here for condors and hummingbirds. Return to Ibarra for dinner and overnight.

Day 8: Otavalo & Quito

Accommodations: 1 night Wyndham Quito Airport Hotel. Included meals: Breakfast.

Explore the famous market at Otavalo
Return to Quito Airport for overnight

Full Day Itinerary: Today you'll experience Otavalo, whose beauty lies in its people, the Otavaleño Indians, and their market, undoubtedly one of the best in all of Latin America. The market takes place in Otavalo's main plaza, but don't hesitate to wander into the side streets, where the goods on display diversify and the prices are lower. Enjoy the cacophony of sounds as Andean pipe music mixes with Spanish and native Quechua voices, complemented by an explosion of color from the many fabric, fruit and other stalls.

Time permitting, explore Lake Cuicocha and another nearby village, Peguche, known for its traditional weavings. Return to Quito for overnight.

Day 9: Depart Quito/Arrive USA

Included meals: Breakfast.

Transfer to the airport for your return flight
Arrive in the USA later today
NOTE: Passengers returning to New York (JFK) or Los Angeles (LAX) have an overnight flight arriving the next day.
The high altitudes reached on this trip (up to 11,000 feet above sea level) and the amount of walking involved, often on uneven terrain, requires that you be in good physical condition to fully enjoy the trip. We strongly suggest that you consult your physician if you have any concerns regarding your ability to handle these conditions.
see more
In writing our evaluation, we did not have enough room to tell you about our guide, Patricio. He was, without a doubt, the most friendly, patient, and knowledgeable guide we have had out of many tours we have taken. We hope that you will pass this information on to the Friendly Planet office in Ecuador, as we feel that he should be given special recognition for the superb representation of your company. We had two medical emergencies with travelers in our group. He was able to get doctors for them and arrange for one of them to join our trip the next day. Another time, while telling us of the exportation from Ecuador of roses, he asked our driver, Jose, to stop for a moment. He came back a few minutes later with roses for all of the women on the bus! These were just two of the many kindnesses he extended to our group. He really understands the meaning of "guest service" and is to be commended for the way he conducts a tour. We came away feeling like honorary Ecuadorians!
Cathy and Rich Sholtanis, Tamworth, NH