Published Mar 19, 2019
Weekly

Hot Deals!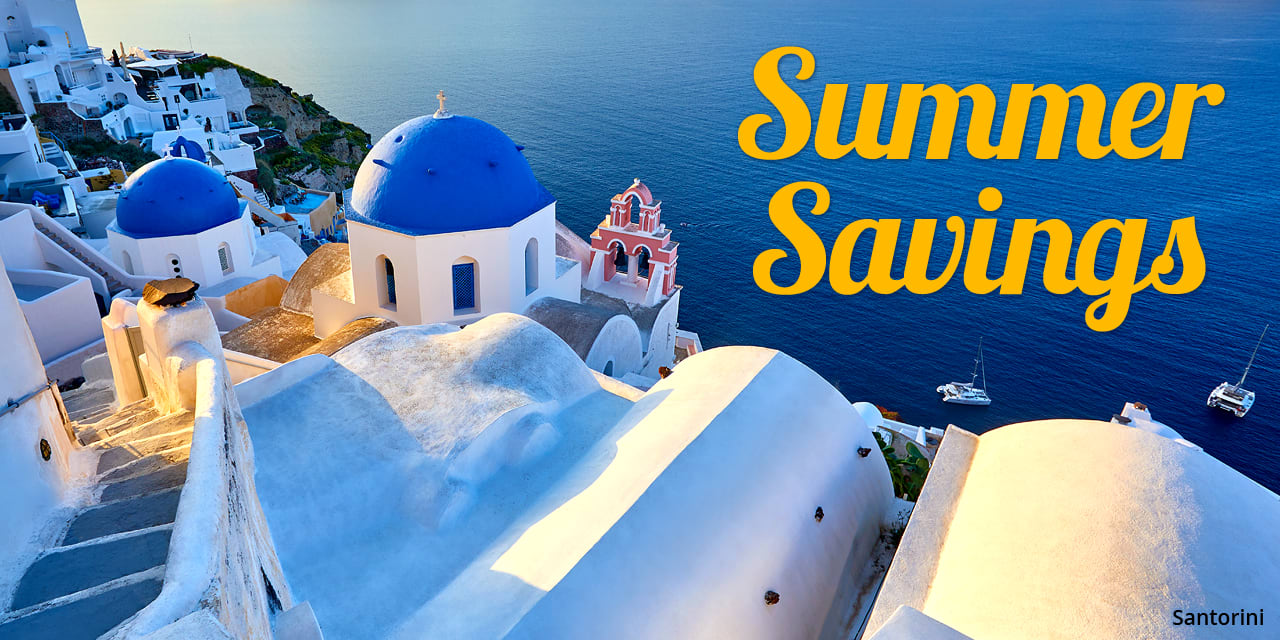 Vacation in Europe:
book by April 2 and save up to $700!*
The summer is fast approaching but it's not too late to book an incredible adventure to some of the world's trendiest destinations! And while a lot of others offer bargain trips to these unforgettable places, our tours will help you get the absolute most out of your vacation days without breaking the bank. From the must-see sights and hands-on experiences to all the inclusions we know make a great and stress-free trip, traveling with Friendly Planet means you get to relax and explore, and we'll handle the rest.
Athens, then a 7 day cruise of the Greek Isles plus Kusadasi for Ephesus; independent travel with flights & hotel included. Optional Classical Greece extension.

FROM

FROM

$3149

$2649

12

W/ FLIGHTS

TOUR ONLY

DAYS

per person, double occupancy, during sale*

On Sale: Save $500–650*
Porto & its famous wine, the university town of Coimbra, Fatima & medieval Obidos, then enchanting Lisbon with a day trip to fairy-tale Sintra

FROM

FROM

$3099

$2599

11

W/ FLIGHTS

TOUR ONLY

DAYS

per person, double occupancy, during sale*

On Sale: Save $550–700*
Beautiful & historic Dublin, the scenic Ring of Kerry, Killarney, the dramatic Cliffs of Moher, cultural Limerick & bohemian Galway

FROM

FROM

$1649

$1249

8

W/ FLIGHTS

TOUR ONLY

DAYS

per person, double occupancy, during sale*

On Sale: Save $400*
Witness continents collide in Istanbul, then explore Ankara, fairy-tale Cappadocia, Mediterranean Antalya, plus the ruins at Ephesus, Troy & more

FROM

$2199

15

W/ FLIGHTS

DAYS

per person, double occupancy, during sale*

On Sale: Save $400*
Ancient Athens, then a 3 day cruise to Mykonos, Kusadasi, Ephesus, Patmos, Santorini & Crete; independent adventure with flights & hotel included. Optional Classical Greece extension.

FROM

FROM

$1949

$1449

8

W/ FLIGHTS

TOUR ONLY

DAYS

per person, double occupancy, during sale*

On Sale: Save $400–450*
Athens, then a 4 day cruise to Mykonos, Kusadasi & Ephesus, Patmos, Rhodes, Santorini & Crete; travel on your own with flights & hotel included. Optional Classical Greece extension.

FROM

FROM

$2299

$1799

9

W/ FLIGHTS

TOUR ONLY

DAYS

per person, double occupancy, during sale*

On Sale: Save $400–450*
The Adriatic region: Slovenia & Lake Bled to Croatia's Split & Plitvice Lakes & more, plus the canals of Venice & Lake Wörth in the Austrian Alps

FROM

FROM

$2849

$2349

10

W/ FLIGHTS

TOUR ONLY

DAYS

per person, double occupancy, during sale*

On Sale: Save $450*
2 nights in Split & a 7 night cruise with Diocletian's Palace, medieval Dubrovnik, Trstenik & Korcula; optional extension to Zagreb & Plitvice Lakes

FROM

$3249

11

W/ FLIGHTS

DAYS

per person, double occupancy, during sale*

On Sale: Save $450*
The energetic capital of Madrid, then to Andalusia for Moorish Cordoba, historic Seville, Granada & the Alhambra; optional extension to Barcelona

FROM

FROM

$1849

$1349

8

W/ FLIGHTS

TOUR ONLY

DAYS

per person, double occupancy, during sale*

On Sale: Save $450*
Explore Ireland in depth: Dublin, Ring of Kerry, Cliffs of Moher, Limerick, Killarney, Connemara, Galway, Lough Corrib Cruise & Clonmacnoise

FROM

FROM

$1849

$1449

10

W/ FLIGHTS

TOUR ONLY

DAYS

per person, double occupancy, during sale*

On Sale: Save $450–500*
Tour both Ireland & Northern Ireland: Dublin, Ring of Kerry, Cliffs of Moher, Limerick, Killarney, Connemara, Galway, Lough Corrib Cruise & Belfast

FROM

FROM

$2899

$2499

14

W/ FLIGHTS

TOUR ONLY

DAYS

per person, double occupancy, during sale*

On Sale: Save $450–500*
The ancient capital of Athens, then 2 of the magical Greek Isles: Mykonos & Santorini; travel independently with flights, hotel & ferry included. Optional Classical Greece extension.

FROM

FROM

$2999

$2499

11

W/ FLIGHTS

TOUR ONLY

DAYS

per person, double occupancy, during sale*

On Sale: Save $500–600*
Vibrant Zagreb, the spa resort of Opatija, scenic Plitvice Lakes, Split & Diocletian's Palace & medieval Dubrovnik, the Pearl of the Adriatic

FROM

FROM

$2099

$1599

10

W/ FLIGHTS

TOUR ONLY

DAYS

per person, double occupancy, during sale*

On Sale: Save $550–600*